State imports NC oyster shells to build up Murrells Inlet reefs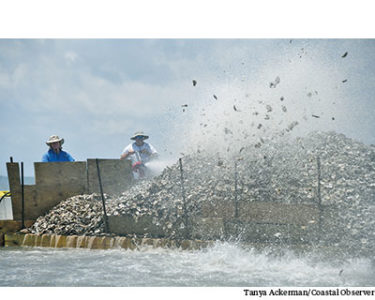 A fire hose is used to disperse the oyster shells over the reef.
Approximately 7,500 bushels of oyster shells were added to nine reefs off Murrells Inlet during the last week.
The project, led by Michael Hodges, was part of state Department of Natural Resources oyster recycling enhancement program. It's a yearly event for the inlet.
"Every year there's a lot of harvest pressure, that's why we come back here and plant shells," Hodges said.
DNR started collecting oyster shells to recycle in 2000 and building reefs in 2001. Since then nearly 2,000 tons of shells have been deposited in more than 100 sites from Murrells Inlet to Hilton Head.
Oysters in the larvae stage are free-swimming and search for a solid surface to attach to. Adult oysters and the shells of dead oysters emit chemicals that attract the larvae, which need to be close to other oysters to reproduce.
Adult oysters filter up to 2.5 gallons of water per hour and build reefs that become habitats for other creatures, according to DNR. Oyster reefs are also natural breakwaters that help control erosion.
Hodges and a crew from Carolina Dock and Marine were at the dock behind Nance's just before high tide on Friday to take a load of about 28,000 pounds of shells to a site off the inlet. There are nine sites in the inlet: four on Woodland Cut, three on Oaks Creek and two on Main Creek.
"Some of them are smaller than others," Hodges said. "The biggest one [is] almost a 200th of an acre."
Using a Bobcat tractor that carried three bushels of shells at a time, Hodges loaded 900 bushels onto a barge. The trip from Nance's to the reef took about 30 minutes. Unloading the shells using a fire hose to disperse them over the reef took another 45 minutes.
This is one of two methods DNR uses to return oyster shells to a natural habitat. If the shells are going to a place that won't be harvested, they are put into biodegradable bags and dropped into the water.
"We like to do this method on the harvest grounds so the bags aren't becoming exposed after people harvest them and become aquatic litter," Hodges said. "This is good to get a large volume of shells out in a short amount of time."
With this method Hodges can cover about a tenth of an acre in three hours. With bags it would be about 1,000th of an acre
The shells placed in Murrells Inlet came from a shucking house in North Carolina. DNR has to purchase shells from out of state because only about 10 percent of the shells of oysters consumed in South Carolina get recycled. The money to buy the shells comes through the county legislative delegation. The recycling program is funded by revenue from the sale of fishing licenses.
Locally shells are accepted for recycling at Clambank Landing, the Murrells Inlet-Garden City Fire Department headquarters station and the observation and fishing pier between the Highway 17 bridges leading to Georgetown. After the shells are collected they are taken to Charleston to be "cured." Oyster shells need to be dried for at least six months before they are returned to the water.
Murrells Inlet produced about 2,000 bushels of recycled shells in the past year. After adding collection sites in the Upstate last year, DNR set a record with nearly 35,000 bushels recycled statewide.