Storm tests island's renourishment project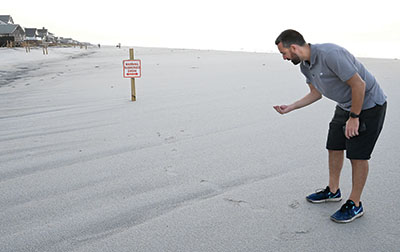 Administrator Ryan Fabbri checks the south end beach after the storm. He said the sand was level with the bottom of the sign the day before.
Engineers are at work to figure out how much of the 1.1 million cubic yards of sand pumped onto the beach at Pawleys Island over the winter survived the passage of Hurricane Isaias this week.
The storm cut into the dune created as part of a $14.3 million beach renourishment project. In a few places on the island's south end, the storm surge broke through where walkways crossed the dune.
But the beach remained wide. And mostly clean.
Isaias was notable for what it didn't leave behind: shells for beachcombers and debris from damaged walkways and stairs.
The renourished beach at Pawleys Island kept the storm surge from washing under the houses on Springs Avenue. "It did what it was supposed to do," Town Administrator Ryan Fabbri said.
The storm passed at high tide Monday night and a west wind blew the water and marsh grass from Pawleys Creek far up into the yards of homes along Myrtle Avenue.
A creek dock with a kayak was left on the edge of the road.
"My cousin called me and said 'I think your dock's on the island,'" said Chas Cooper. He rode over from his family's home on the west side of the creek to investigate. The dock, along with a kayak, was moved with a forklift.
Between 5 and 7 inches of rain were reported in the Pawleys Island area by National Weather Service monitors. The peak wind recorded at the Georgetown County Airport was 49 mph.
The storm made landfall as a Category 1 hurricane just across the state line at Ocean Isle Beach, N.C.
It's unlikely that Isaias will meet the damage threshold for a federally-declared disaster – $7 million for the state and $231,000 for Georgetown County – Fabbri said after talking with the county's emergency management director.
Town Council agreed to spend up to $20,000 to remove marsh grass piled up along the roadside and debris, mostly sand fence, from the beach. The state Department of Transportation cleared the roads.
The council has yet to decide if it will help owners replace sand at about a dozen homes where the dune was breached. That will require state permits and staff from the Office of Ocean and Coastal Resource Management looked at the damage Wednesday.
"They'll have some options to fill that gap," Fabbri said.
The breaks appeared to be caused by the build up of the storm surge rather than the force of the waves.
"Had we not had the project, I don't know what the south end would look like," Fabbri said.