Student fundraising effort can't keep slime in stock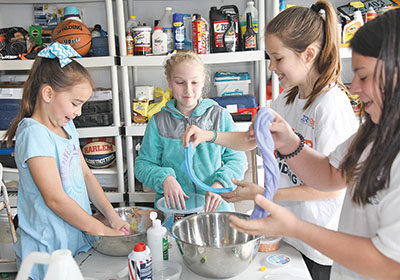 Bailey Porter, Anna Burrow, Sophia Kirk and GG Smith make slime in the Kirks' garage.
Coastal Montessori Charter School classrooms have been filled with slime this month, but it's for a good cause.
Sophia Kirk, 10, and her classmates have been selling the homemade stuff to raise money for a good cause: the Juvenile Diabetes Research Foundation.
"Everybody at the school likes slime so it's easy to raise money," Sophia said.
The fifth-grader was diagnosed with the disease in 2013 when she was 5. Sophia has Type 1 diabetes, which means her body doesn't produce insulin and she has to wear an insulin pump. There is currently no cure for the disease.
"She is tough," said her mother, Kristin. "She hangs in there."
The girls have been gathering at the Kirk house in Pawleys Island almost every day to make batches of slime by hand. The recipe is fairly simple: glue, baking soda, contact lens solution, shaving cream and food coloring. Occasionally glitter or sprinkles are added.
It takes one person about 10 minutes to make enough to fit into one small container.
"I feel like that's really the most fun part," Kristin said.
Sophia said the hardest part of making the slime is getting the right consistency. A batch is ready when it doesn't stick to your fingers, she added.
Jeff Kirk, Sophia's father, said the girls are carefully tracking inventory and sales.
"They're trying to wrap their heads around the whole concept of" running a business, he added. "How to start it, how to produce it, how to sell it. Putting your signs up in the school to market it."
The slime sale started on March 6 and sold out each of the first three days, raising more than $300.
"We're thankful to the school for letting us do this," Kristin said. "I'm not sure all school s would be that excited about it."
Sophia and her classmates plan to keep making and selling the slime until they reach their goal of raising $1,000 before the family takes part in the JDRF One Walk in Charlotte on April 6.
"Hopefully we can get there," Kristin said.
The team has a web page for donors at jdrf.org.