Students will start new term with four days of classes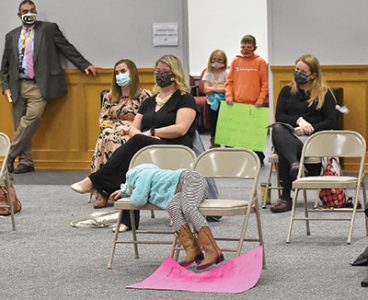 Emalee Poindexter of Georgetown fell asleep Tuesday night while waiting for her mom, Melissa, to address the school board.
Georgetown County parents of students in elementary and intermediate schools will have the option of sending their children to in-person classes four days a week starting on Feb. 1.
The school board approved a hybrid-plus plan this week. Students were attending in-person classes two days a week before the winter break but have been in a remote phase since Jan. 4.
"As we've made decisions going through this process, we've tried to do it not only for the best interests of our students, but also for all of our teachers, for all of our educators, for all of our staff, and all the families they go home to," Superintendent Keith Price said.
Parents who do not want their children at school four days a week can choose to join the district's virtual program.
"I think our children deserve a chance to go back to school and parents deserve a chance to choose virtual," Board Member Patti Hammel said. "I don't think what we're doing right now is acceptable."
Board Member Pat DeLeone, who called for votes on the hybrid-plus plan that failed in October and November, said the district couldn't wait for the COVID-19 infection rates to go down before acting.
"It's not that I don't care about our children and our teachers, but this coming March it will have been one year since our students have met face to face with their teachers more than a few hours a week," DeLeone said. "I do not think that we can continue until we reach low [rates] before these kids come back to school."
The board heard pleas from a dozen parents and students before the vote.
"I don't like sitting in front of the computer and not getting to see all my friends and my teacher in person," said Ruby Badgett, a kindergarten student at Waccamaw Elementary School.
"I get tired of putting on the computer and sitting there for two-and-a-half hours," said Ruby's sister, Mary Margaret, a second-grader at Waccamaw Elementary.
The girls' mother, Julia, said both her daughters are struggling, and she wonders whether their mental health will ever recover.
"Many are flourishing with this newfound way of educating. But the fact is most are not," Badgett said. "The virtual option is there for those who are having success or feel uncomfortable with more face-to-face instruction."
Heath Lewis said his two children, who are Waccamaw Elementary students, are slipping socially and not receiving the proper guidance in school to excel in life.
"I feel confident that the long-term risk of our kids not attending school far outweighs the health risk," Lewis said.
"Schools are at the very center of our society and are vital on every level," said Olivia Johnson, a junior at Waccamaw High. "Teachers, and the education they provide, directly result in the success of our community. Without in-person access to them, our futures are at risk."
Johnson, who also asked the board in December to expand the in-person option, was the first to speak during public comment because she had to go home and do her homework.
"We are creating huge academic gaps that can't be made up in an already packed curriculum," said Sydney Tillman, a parent from Murrells Inlet. "The rest of the community is opening back up. It is ridiculous that kids can go to trampoline parks and bouncy houses, but school is the one place that a child can't go to."
Fewer students are currently enrolled in the district's virtual program for the second semester and Price said parents have until Jan. 20 to notify their child's school if they want the in-person option.
Because of the decline in the virtual program enrollment, some teachers will transition back to in-person classes.
Board Member Mike Cafaro urged Price to secure the COVID-19 vaccine for teachers as soon as possible. "That would alleviate some of the fear that our teachers have," he said.
"If it was up to us we would have already been in line for that," Price said.
District nurses got the first dose of the vaccine on Friday, and Tidelands Health asked the district for a count of employees and substitute teachers.
"They've got the number. They're working on the plan," Price said. "As soon as we get the green light we'll be ready to go."
Board Member Lynne Ford said the district has done such a great job with security measures that schools are the safest places for children to be.
However, she worries that the community is not doing enough to curb the spread of the virus.
"We have to be our neighbor's keeper," Ford said. "We need more residents of Georgetown County to do the right thing and take more positive action."
Price said the district has installed the latest DHEC-approved plexiglass barriers in all elementary schools and Waccamaw Intermediate School, which will allow for students to be at a social distance of 3 feet instead of 6 feet, if necessary.
However, the district will try and keep students 6 feet apart in classrooms whenever possible, he added.