Summer league adds 53 more games to season for former WHS standout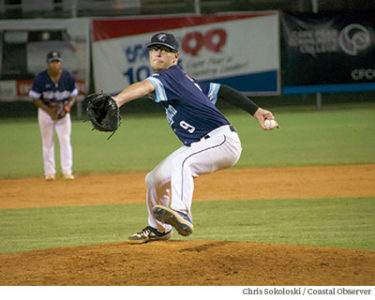 Jaret Montenery on the mound for the Wilmington Sharks.
When Jaret Montenery was growing up in Lima, Ohio, his family hosted college baseball players who were playing for local teams in a summer league.
The tables have been turned as Montenery, a 2018 Waccamaw High graduate, is now a college student staying with a Wilmington, N.C., family while playing for the Sharks of the Coastal Plain League.
"Fortunately for me I've got a very great family," Montenery said. "It's been a great experience so far."
Montenery shares a room with C.J. Conrad, his teammate at Winthrop University.
"It's pretty much like we're still at college," Montenery said.
The CPL is one of more than 40 leagues across the United States where college baseball players can play during the summer. Players do not get paid.
The Sharks feature players from all along the East Coast from Florida to Pennsylvania, and as far west as Tennessee, representing nearly two dozen colleges and universities.
"Every night we have one of the best leagues in the nation … you can expect some of the best players out there," Montenery said. "Competition is as good as college."
The Sharks play a 53-game schedule between May 30 and Aug. 3.
"Summer ball is about having fun and trying to feel comfortable," Montenery said. "My first couple of outings here were not good. But I've felt myself grow with my experience here."
"Summer baseball is part of the developmental process," said the Winthrop baseball coach Tom Riginos. "We like to send a lot of our guys out, especially ones that didn't get a lot of innings in during the spring."
Twenty-six pitchers have seen action in at least one game for the Sharks. Montenery has been in seven games, striking out nine while allowing 11 hits, 15 runs (10 earned) and nine walks in nine innings. Montenery said the coaches make sure none of the pitchers go more than three or four games without seeing action.
"Every time you show up to the ball field you want to be on the field. You see your guys out there competing and working their butts off, and you want to be out there with them," Montenery said. "But sometimes it's not about yourself. You've got to take in everything and be a good teammate. There's times when that other guy is going to have a better chance to be successful. And if that's what the team needs, you have to take little sacrifices like that."
Riginos said Montenery works hard and is an excellent teammate. But his biggest asset is that "he's a very, very competitive kid."
The Sharks wrap up the season on Aug. 3. Montenery will have a few weeks off before he returns to Winthrop, where conditioning and practice will start almost immediately.
"This experience at Wilmington has helped me get over some bumps in the road and be ready for my next year in a more comfortable way," Montenery said. "I can't wait to get back to school now because I'm so much more prepared than I was last year. I'm ready to show what I can do."
Montenery was named the top Class 3A player in the state as a senior at Waccamaw. He was a threat on the mound and at the plate. But when he arrived at Winthrop the coaches told him he could concentrate on his pitching or his hitting, but not both. He chose pitching and admits he struggled during his freshman year. He only appeared in five games, striking out nine while allowing 11 hits, including three doubles and three home runs, 14 earned runs and nine walks in eight-and-one-third innings. He picked up his first college win on March 13 against Davidson College.
"For me in my freshman year, I knew I had a lot of stuff to learn," Montenery said. "You think you know the game, but you really don't know the game. There's so many more levels to college baseball than there are in high school and any level before that. … It's really about how much you can take in and learn so you can get an even playing field and you can compete in the best way."
"Freshmen year is tough. It's a new environment, a new set of teammates and new coaches," Riginos said. "The ability level is high. Some of the mistakes you got away with in high school you can't get away with in college."
Montenery had to adjust to the speed of the college game.
"Things are moving 10 times quicker because that's just the level of play," Montenery said. "There's very talented players everywhere you look."
The grind of a 55-game college schedule also took some adjustment.
"It made high school ball seem like you only played for a month," Montenery said. "After a while you just start getting used to it. When the season was over and I had a week or so with nothing to do, I was missing it. Once you get used to playing that many days in a row, you want to play that many days in a row."
Montenery said high school athletes who want to play a sport in college need to understand what a commitment it is. It's like a job, he added.
"Now you're not the oldest in your class, you're not facing freshmen," Montenery said. "You're the bottom of the food chain. You're facing guys … [who have] been playing possibly three or four years more in college than you."
A loss in the Big South tournament ended Winthrop's 2019 season.
"We're very hungry," Montenery said. "We lost a lot of players so there's a lot of spots opening up. We know there's people that are going to have to step up. If we want to be successful we're going to have to fill big shoes. I think a lot of us are just excited to show what we can add to the team."