Technology classes lead the way to careers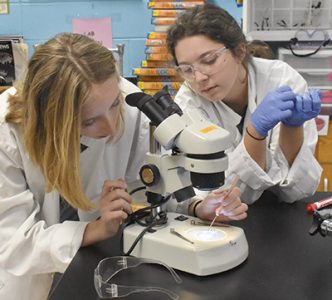 Ellie Keesee, left, and Elizabeth Birkbeck study tissue from a cow's elbow in a class at Waccamaw High.
High school students still dissect frogs in science class, but a select few also dissect the body parts on larger animals, like cows.
Seven Waccamaw High School students in Barbara O'Neill's human body systems class got a closeup look at a cow's elbow on Monday to give them a better understand of anatomy.
"Everybody here is going to go into some sort of medical field," O'Neill said. "This gives them a leg up to schools that don't have this program."
Mya Robinson, a senior, wants to be a forensic pathologist.
"When I took my anatomy class, it was one of the best classes that I took here," Robinson said. "I wanted to take another class that was dealing with anatomy and forensics."
Elizabeth Birkbeck, a junior, wants to be a doctor or a nurse.
"This class really is big on the visual. You do it yourself and you're able to meet a lot of people who want to go into the same field as you," Birkbeck said. "This is more like college prep. It teaches you how to think and how to summarize a lot of stuff. There's more of a feeling of learning and doing it by yourself."
Human body systems is part of the "Project Lead the Way" curriculum. PLTW classes give students access to real-world, applied learning experiences that stress problem solving, critical and creative thinking, collaboration and communication.
Waccamaw High also offers PLTW classes in computer science and engineering.
O'Neill has been teaching science for more than 20 years and has never gotten to use such advanced teaching tools as a cow's elbow or a cow's eye.
"It's amazing because this class is hands-on and student-led. I'm just a facilitator," O'Neill said. "I am not in front of the class to teach teach teach. It is them doing, them learning and me facilitating."
"It helps me visualize it more," Robinson said. "I am more of a person to do it instead of just read about it or look at it. It's more interesting to see it."
"You want to look at it. You want to put it under a microscope and look at the tissue," Birkbeck said. "You want to hold it in your hands and visualize it."
O'Neill had to complete 80 hours of training to teach PLTW biomedical classes. Human body systems is the second in the series.
"It's just another way to expand science," O'Neill said. "I'm excited to be able to be a part of it."
Nearly 20 percent of Georgetown County School District students will take a career technology education class, like human body systems, this year.
Along with the PLTW biomedical classes, there is everything from welding and auto tech to cosmetology and culinary arts.
"I think we're able to reach a wonderful cross-section of students with these program offerings," said Pamela Vereen, the district's director of college and career readiness. "We're excited about where we are, but there's a lot of potential and promise still to come."
Georgetown High School has the most students enrolled in a CTE class with 580. Waccamaw High is second with 349 students, followed by Andrews with 345 and Carvers Bay with 264.
Eighteen Waccamaw High students took at least one class at the district's career center, which is located on the campus of Georgetown High, this year.
Career technology education classes give kids the chance to try things to see if it's something they're interested in for a career, Vereen said. The district also offers job shadowing and work-based learning opportunities.
"All students can find a niche," Vereen added.
Many district students take classes at Horry-Georgetown Technical College while still in high school.
Tamara Tucker, director of guidance at Waccamaw High, starts reaching out to students when they're in 10th grade so they can make sure to fulfill all their graduation requirements before their senior year, when they'll need the time during the school day to go to HGTC's campus outside of Georgetown.
"We need them to have a good bit of their high school course work out of the way," Tucker said.
Late last year, the district sponsored an "educators in industry day" which gave teachers the opportunity to travel to the HGTC center to check out the equipment.
Vereen said that is "huge" for teachers.
"In our minds, we still remember what industry looked like, versus what it is now," she added. "You have to have that fresh perspective to be able to share it with your students. That kind of becomes eye-opening."
Tucker has seen an increase in the number of students taking career technology education classes since she started at the school 11 years ago.
In 2014, when HGTC announced plans to build an advanced manufacturing center on its Georgetown campus, the school district created a technical scholars program, which allows high school students to take HGTC classes, in some cases for free, and graduate with a diploma and certification in one of the advanced manufacturing fields.
Horry-Georgetown Tech is hosting a technical scholars open house on March 9 from 6 to 7:30 p.m. on the Georgetown campus.
The event is free and information will be available on the following programs: advanced welding, forestry and wildlife management, HVAC, machine tool, mechatronics and patient care medical assistant.
For more information go to hgtc.edu/techscholars.