The Crown – Revived pageant adds another title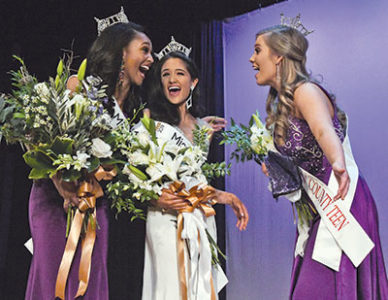 Jada Samuel, left, Miss Five Rivers; Mackenzie Barrett, Miss Georgetown County; and Julia Herrin, Miss Georgetown County Teen.
Eleven women with dreams of being Miss America, or Miss America's Outstanding Teen, battled it out on a Saturday night to take the first step of that journey.
They were competing for the titles of Miss Georgetown County and Miss Five Rivers inside the Waccamaw High School auditorium.
After discussing their platforms, showing off their swimsuits, talent and evening gowns for a panel of five judges, Brooke Vu was named Miss Georgetown County, Jada Samuel was named Miss Five Rivers, and Julia Herrin was named Miss Georgetown County Teen.
Vu attended Waccamaw Elementary School but moved away and graduated from Socastee High School in 2015. She expects to graduate from Coastal Carolina University in May. Vu is the second Miss Georgetown County since the competition was revived.
"Miss South Carolina week is my favorite week and I wanted to come back so bad and show everybody in Georgetown County that I am ready to represent them," she said. "This is my hometown and I am so excited to represent them at Miss South Carolina this year."
Samuel grew up in the Greenville, graduated from the University of South Carolina and works for WIS television in Columbia. She is the first Miss Five Rivers.
"For me this is an opportunity to meet new people and I think that's going to be a good challenge," Samuel said.
The Miss Georgetown County Scholarship Organization got permission from the Miss South Carolina and Miss America organizations to add the title of Miss Five Rivers this year.
"When we looked at all their resumes, there was no way we could choose just one," said Kevin Jayroe, co-executive director of the local organization. "The one thing that connects all parts of our county is the five rivers."
For the talent portion of the competition, Vu performed a Polynesian dance and Samuel recited the speech Viola Davis gave after she won an Academy Award for Best Supporting Actress in 2017.
Vu has been dancing Polynesian for about 10 years and works at Polynesian Fire, a performance art theater in Myrtle Beach.
"My best friend, she was Hawaiian and her dad taught hula," she said. "I decided [to take] a hula class and I ended up loving it and now it's my job so I get to dance what I love."
Samuel was involved in dramatic interpretation on her high school speech and debate team
"I wanted to pick something that was true to me but also pushed me as an actress," she said. "I picked Viola Davis because she is a powerhouse actress and she is from South Carolina. That's something that I wanted to be able to share on stage."
Jamie McNair, a 2014 Waccamaw High graduate, won the People's Choice Award, which is voted on by audience members who make a donation to Children's Miracle Network Hospitals.
"It was an awesome experience. I loved it," McNair said. "I had a great time getting to know all the girls. In one day I felt like I had known them for a long time."
Competing in a pageant was her 2018 New Year's resolution, and she made it a year-long goal.
"It took me a year to feel confident enough," McNair said. "I really took it as a time for self-development."
For the talent portion, McNair sang "Maybe" from the Broadway musical "Annie." The song reminds her of times she was bullied in middle school.
"The way for me to escape was to go and sing with my vocal coach and that was one of the very first songs that she taught me," McNair said. "I have a very vivid memory of learning that and not having to think about the issues I was having in the hallways."
McNair's performance came a few minutes earlier than she expected. A technical glitch, one of several in the show, prevented the contestant before her, Hailey O'Dell, from performing a dance routine.
"They came running back and said you've got to go out there," McNair said. "I was in the middle of trying to get my breath together. I had to really think on my toes and just go and just do it."
O'Dell eventually performed a hip-hop dance after all the other contestants had completed their routines.
Herrin, a home-school student from Bluffton, was first runner-up for the Miss Georgetown County Teen title last year. She has been competing in the Miss America system for five years.
"This [is] an opportunity to serve Georgetown County and go back to Miss South Carolina Teen which is a huge dream on mine," Herrin said.
When choosing a performance for the talent portion, Herrin did a little historical research and found out the Waccamaw Neck was once a popular place for pirates. So she performed the theme from the movie "Pirates of the Caribbean" on a piano.
"It was cool to be able to tie that into Georgetown County history," she said.
Her performance won her the highest score in the teen talent competition.
Herrin had to beat out two other competitors, including 14-year-old Lana Guy of DeBordieu, who was making her pageant debut.
"It was very unique and interesting," Guy said. "It was intimidating. But all the judges were really nice and amazing."
Guy, who is enrolled in an online charter school, chose to play acoustic guitar and perform Johnny Cash's "Folsom Prison Blues" for the talent competition. It was the first song she learned how to play on guitar.
"I wanted to play something that I'm comfortable with and something that I know that everyone loves," Guy said. "Who doesn't love Johnny Cash?"
For the second year in a row, Mikeya Murphy was runner-up for Miss Georgetown County. Her rendition of Tina Turner's "Proud Mary," complete with Turner's dance moves, won her the highest score in the talent competition. Runners-up were not announced for Miss Five Rivers and Miss Georgetown County Teen.
The Miss Georgetown County pageant returned in January 2018 after a 33-year hiatus.
"We're just excited to have this back again and going strong," Jayroe said. "We're getting great support and now it's time for the community to use these girls and book them for events."
Last year's winner, Ansley Cartee of Anderson, relinquished her title in April when she was accepted to graduate school and moved to Clemson. Runner-up Mackenzie Russell represented the county at the Miss South Carolina pageant. Russell was honored at this year's pageant and helped crown Vu.