Soft solution to erosion control designed to provide resiliency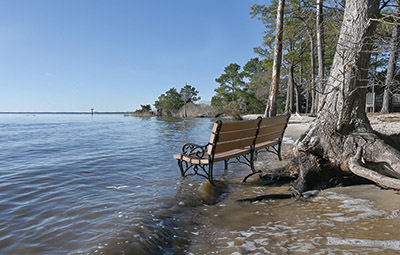 Waves lap at a bench on the shore of Morgan Park, where a project is planned to reduce erosion.
Morgan Park in Georgetown will soon be home to a "living shoreline" that is expected to help slow erosion while at the same time attracting fish, oysters, shrimp and birds.
According to the National Oceanic and Atmospheric Administration, living shorelines use plants or other natural elements — sometimes in combination with harder shoreline structures — to stabilize estuarine coasts, bays, and tributaries.
Morgan Park overlooks the upper part of Winyah Bay where the Sampit River meets the waters Pee Dee and Black rivers. It is adjacent to East Bay Park.
"Our concern is, if we do nothing the erosion is going to continue and they're going to lose that piece of the property on the Morgan Park side and it's going to start eating into the East Bay side," said Joy Brown of The Nature Conservancy, who is the project director.
The project will consist of a wooden breakwater, a wooden wattle fence, and gabion baskets filled with oysters, shells or mined coquina.
Brown said they will try to use locally-sourced wood to mimic what is already in the watershed.
The Darnall W. and Susan F. Boyd Foundation donated $997,000 toward the $1.4 million project. It's the first time the foundation, which is based in Columbia, has funded a project along the coast.
Brown said that's a small budget for both the engineering and construction.
"The folks that we're working with, if I normally would have told them we're going to do an acre-size shoreline stabilization project, they automatically think of cranes and barges and rocks and that takes you into that $5 [million] or $10 million realm," she added.
The Nature Conservancy identified five finalists for a living shoreline in 2019. Staff did a GIS analysis based around infrastructure, longterm resilience, ecological value and social vulnerability. They were also looking for an "opportunity zone," which is a federal program that gives tax breaks for doing business in those areas.
Under the The Nature Conservancy's coastal resiliency analysis, Georgetown's grade was above average.
"One thing that really drove us was it was one single private property owner that we could deal with. It was [also] a public space and we liked that it had a really good resiliency score," Brown said. "According to the analysis TNC did, it notes that if we can save these places they will actually bring good resilience to the area in the future and the land will provide some kind of benefit."
Planning for the project officially got underway in 2021 with the hiring of Robinson Design Engineers for the design work and Coastal Carolina University for monitoring and community outreach.
Brown expects to submit the living shoreline permit application this month. It will then be put out for public comment.
"We don't know how long the review process is going to take," Brown said.
The project also includes a breakwater, which will need a separate permit.
The plan is to have the design work done by the end of 2023. Brown is not sure how long installation will take.
When finished, the project will be near the park's picnic tables and shade structure. At high tide, people will be able to see the tips of the poles of the breakwater. At low tide, people will be able see the tops of the wattle fencing.
The Nature Conservancy has been studying living shorelines for about 30 years, and has completed 14 projects in South Carolina since 2010. Some of the projects were for people who had been turned down for retaining walls and other stabilization projects.
The state approved a definition of a living shoreline and a permit in May. "We were one of the partners at the table to really support the development of the living shoreline permit," Brown said.
The Morgan Park project may be the first to apply for the permit, Brown added.
The state Department of Natural Resources has done hundreds of shoreline projects, like oyster shell recycling, since the late 1990s. But it was years before anyone called them living shorelines.
"It was not framed or couched under resilience. It was oyster reefs," Brown said. "At a lot of the projects they've installed, they've seen marsh grass recruitment, they've seen erosion reduced, they've seen oysters growing."
Brown said a living shoreline was installed in Pensacola, Fla., to reduce erosion near a main road. Now, businesses like charter boats and kayak rentals have moved in, and the area is popular with birders.
"That in my mind is kind of what we're shooting for: something that stabilizes the shoreline, something that looks nice and really blends in with the marsh, but then maybe something that can promote more fish, more shrimp, more crabs, more birds," she added.