The many days of Christmas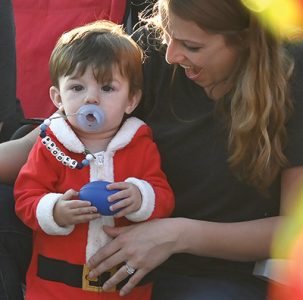 Santa's on his way: Waiting for the parade in Murrells Inlet.
Twelve days just aren't enough when it comes to scheduling Christmas events. From now through the New Year there will be a swirl of lights, Santas and entertainment to make the season merry and bright.
Here's a calendar. Start making your list.
Nov. 25
• The town of Pawleys Island celebrates the season by lighting its Christmas tree in the Nature Park. In its second year, the celebration has added to its light display and will include a visit from Santa. Music and refreshments are also part of the event, which runs from 5 to 7 p.m.
• The Marshwalk in Murrells Inlet will turn into a "Wonderland of Lights" starting at 5 p.m. The walk-through display will continue nightly from 5 to 10 p.m. through Dec. 31.
• Brookgreen Gardens starts a new season of its popular "Nights of a Thousand Candles" with a preview from 6 to 9 p.m. Tickets are $150 and proceeds from the event benefit the nonprofit's Campaign for the Next Generation. "Nights of a Thousand Candles" continues Nov. 26-27, Dec. 1-4, Dec. 8-11, Dec. 15-18, and Dec. 28-Jan. 1. Tickets are $35 for adults and $17 for children for non-members ($30 for adults and $14 for children for members). For more information or to purchase tickets go to brookgreen.org.
Nov. 26
• The Gullah Museum in Georgetown hosts a visit from Santa from 10 to 11 a.m. and storytime from 11:15 to 11:45 a.m. Both events are free. There will also be a two-hour sweetgrass basket making seminar with Vera Manigault starting at noon. Cost is $60 per person. Send an email to gullahmuseumsc@gmail.com to reserve a spot in the seminar. All events will be repeated on Dec. 17.
Dec. 1
• The Georgetown Theatre Orchestra will perform a "Winter Waltz Celebration" and "Mini Messiah Sing" featuring the Indigo Chorus at 7 p.m. at the Winyah Auditorium in Georgetown. The event is free, but donations will be accepted.
• The city of Georgetown will light its official Christmas tree at 7:15 p.m. in Francis Marion Park on Front Street. The event also includes holiday entertainment starting at 6:30 p.m. and the lighted boat parade along the Harborwalk at 7:20 p.m.
Dec. 2
• Pawleys Island Presbyterian Church is hosting Shine Bright, Pawleys Island, its annual tree lighting festival, from 6 to 7:30 p.m. There will be a music, free food, snow, kids crafts and activities, and photos with Santa. Bring your own seating for the concert.
Dec. 3
• The city of Georgetown Christmas Parade begins at 11 a.m. from East Bay Park. The route takes decorated floats down Front Street. A panel of judges will review the entries at Francis Marion Park. There will also be a vendors market at the Kaminski House Museum starting at 10:30 a.m. and a concert of holiday music by the Paul Grimshaw Band at the Winyah Auditorium at 7 p.m.
• Christmas at Atalaya brings music, food and crafts to Huntington Beach State Park. It's a benefit for the Friends of the Park and runs from 11 a.m. to 4 p.m. Park admission is free. Event admission is $5.
• Murrells Inlet 2020's annual Christmas tree lighting will take place from 4 to 6 p.m. in Morse Park. The event also features music, crafts and a visit from Santa and Mrs. Claus.
• The Hammock Shops will celebrate its Christmas tree lighting from 3:30 to 7 p.m. There will also be train rides, carolers and opportunities for pictures with Santa. Santa will return from 1 to 5 p.m. every Saturday and Sunday through Dec. 18.
Dec. 4
• The Murrells Inlet Christmas Parade begins at 3 p.m. on Business 17. The route begins at Wilcox Avenue and ends at Wachesaw Road. The event continues to grow, but the procession always ends with Santa and Mrs. Claus. Murrells Inlet 2020 is still taking applications for floats. Go to murrellsinletsc.com to register. The deadline is Nov. 28.
• Bill Oberst Jr. will perform an abridged one-man version of the Charles Dickens story "A Christmas Carol" at 3 p.m. in the Winyah Auditorium in Georgetown. Tickets are $20 at eventbrite.com.
Dec. 5
• Christ the King Grace Waccamaw Church puts hundreds of nativity scenes on display for the Advent Season. They can be viewed from 4 to 7 p.m. daily through Dec. 10. The festival is free, but donations are welcome.
Dec. 8
• Santa's workshop sets up at the Rice Museum in Georgetown from 6 to 8 p.m. It's sponsored by the Georgetown Business Association.
Dec. 9
• The Singing Christmas Tree returns to First Baptist Church in Georgetown at 7 p.m. through Dec. 12. (3 p.m. on Dec. 10). Tickets are free, but must be reserved in advance by calling 843-546-5187.
Dec. 10
• The Friends of the Georgetown Library's 20th annual Yuletide Home Tour takes place from 1 to 5 p.m. Included on the tour are 11 homes and two churches in Georgetown's historic district. The tour also includes entry into four of the city's museums from 11 a.m. to 2 p.m. and a Santa's Shoppe at the library. Tickets are $25 per person ($20 for members of any county library Friends group) and can be purchased at all library branches.
• Ice skating slides into the Maritime Park on Front Street from noon to 3 p.m. and 5 to 9 p.m. courtesy of the Georgetown Business Association. The "ice" is actually a synthetic surface. Skates will be provided. Admission is free, but all skaters must sign a waiver to participate. Skaters 18 and under must have a parent or guardian present to sign the waiver.
Dec. 16
• The Harborwalk in Georgetown will be the site of a 5K run/walk at 7 p.m. The walkway will be lit with holiday lights.
• The Winyah Auditorium will host a Christmas Jam concert at 7 p.m.
Dec. 17
• The Georgetown Business Association hosts Gingerbread Junction from 1 to 3 p.m. at Francis Marion Park.