The parade that might have been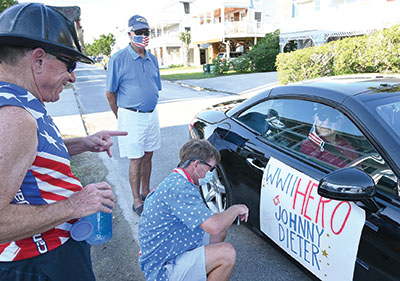 Johnny Dieter, seated, made a tour of the island July 3 with Brian Henry, Tucker Dieter and John Hildreth. He was due to be grand marshal of the parade that was canceled.
Don't call it a parade.
There was a police car, a fire truck and a grand marshal. Still, it wasn't a parade.
People waved flags and cheered; kids chased candy tossed from the fire truck. Not unlike a parade, but not the parade. It was only July 3.
Pawleys Island canceled what would have been the 54th annual Fourth of July parade due to the spread of the coronavirus. It would have been led by Johnny Dieter, an island resident who served in the Navy during World War II aboard a cruiser in the Pacific.
"John Hildreth and I wanted to do something to honor Johnny," said Mayor Brian Henry.
Hildreth is the owner of a 1954 GMC fire truck that has become a regular feature of the parade. Henry is the owner of a Mercedes convertible, which Dieter rode in, driven by his son Tucker. Both wore red, white and blue face masks.
They met up at Fran Ward's house in the Bird's Nest. Henry taped signs to the Mercedes proclaiming "WWII Hero Lt. Johnny Dieter."
"We're not encouraging people to congregate in the street," Henry said.
With the siren blaring, the procession set off at a brisk pace to the island's south end, circled the parking lot and headed north. The Hildreth family children sat atop the fire truck waving flags and throwing candy to kids along the route.
The Dieters kept the top up on the Mercedes, but Johnny waved from the window and gave an occasional thumbs-up to the spectators.
He has always watched the parade, but never been in it.
"It was a humbling experience, and I accepted it with humility," Dieter said. "I was pleased that we were able, that little group with the police car and fire truck, to keep the tradition."