Their championship season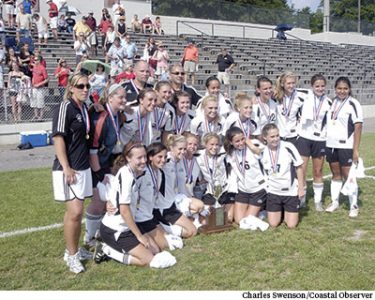 The champions pose for photos with their medals.
While 2020 will be remembered as a season cut short, the memories of 2010 remain vivid for Waccamaw High teams that won two state championship on the same day
Team formed in rec league reached peak as seniors
Waccamaw High School's girls soccer state championship in 2010 was nearly 10 years in the making.
Most of the 12 seniors on the team had been playing together since the fourth grade.
"We had a really unique situation," said Chandler Murphy Kehoe. "I think the fact that we played together for so long, we really became this close-knit family. I think that definitely played a huge role in our success."
Kehoe's father, Ken Murphy, started a travel team when she was in fourth grade. That's when many of the 2010 seniors started playing together.
"Our life revolved around sports. Not just soccer, but other sports we all played together," said Taylor Player Soper. "We were able to practice with each other since fourth grade. And some of us played in rec together. That bond, you don't really find that a lot. When we were in high school, playing was just second nature."
"Playing together for all those years, we pretty much had it down by growing together and playing together pretty much our whole entire lives," said Katie Rastello. "I think that definitely helped us."
The Class of 2010 compiled a 71-8 record over four years, out-scoring opponents 445-35.
Brian Brennan, who was Waccamaw's coach during those years, gives a lot of credit to Murphy for starting the travel ball team.
"I was fortunate to be in the right place, but I knew that they were coming along even when I was coaching before that," Brennan said. "They lived up to their hype. That was a dominant group."
The year before the state championship, the Warriors out-scored opponents 109-10. Wando, a 4A school, scored five of those goals in one game.
But the 2009 season ended the same way the 2008 and 2007 seasons did: a 1-0 loss to Bishop England in the Lower State final.
"B.E. was our main goal every year," Soper said. "It hurt us but it also brought us together and motivated us even more. When senior year came around there was nothing stopping us. We were going to get it done."
"Everybody went into our last year with the mindset that we didn't have a choice," Kehoe said. "We were going to come out with a state championship. It wasn't even an option."
In 2010, Academic Magnet beat Bishop England 3-2 in the Lower State semi-finals, which meant the Warriors didn't have to face the Bishops in the finals for the fourth straight year.
"I think we could have taken them anyway," Rastello said. "We were pretty unstoppable by that point."
"It wasn't all about B.E.," Soper said. "It was about winning the state championship, no matter who it was against."
After dispatching the Raptors 6-1 for the school's first Lower State title in girls soccer, Waccamaw beat Christ Church 5-1 in the state championship. The Warriors outshot the Cavaliers 24-8.
"We came in and we worked so hard and made such a huge impact on the women's soccer team at Waccamaw. We wanted to make a name for ourselves and have a place in history at Waccamaw," Kehoe said. "That was such a great way to end our story and it was something we can all hold and cherish. It was something really special to be a part of."
"It was a great experience. That was a great team," Brennan said. "What an incredible group of girls soccer players."
"It was pretty cool ending our high school career with a bang," Rastello said. "It shouldn't have taken that long but I'm glad we finally did it."
The Warriors finished the season 18-3.
"It was a special group and Waccamaw was the right place to be for it," Brennan said. "We had great support from the school and the administration. I look back at those days fondly all the time. Those were great times."
Soper scored 42 goals and had 20 assists in 2010 and was named Class A-AA Player of the Year by the S.C. Coaches Association of Women's Sports. She was only the third Warrior soccer player to score more than 100 goals.
Soper, Kehoe and Candler Smith were named to the All-State team.
The 12 seniors from the team have stayed close friends even though most have moved away from Pawleys Island.
"We talk to each other nonstop. We're in each other weddings. We're at each other's baby showers," said Kehoe, who lives in Charlotte. "It's really, really crazy. [The championship] seems like it was just yesterday. It's a conversation that comes up quite a bit."
Even Brennan left the area. He and his family moved to Charleston where he taught at West Ashley High School for seven years. He's now at Porter-Gaud School, where he helps coach the boys soccer team.
"It's funny when we get together, it's like time hasn't even passed," said Soper, who has remained in Pawleys Island. "We'll go months without seeing or speaking to each other and then we all get together and it's just complete nonsense. We go right back to where we left off. It's really cool."
As No. 2, 30-win team had top spot in its sights
Waccamaw High School's girls softball team won 30 games in a row in 2009 before being swept by Crescent High in the state championship series.
The pain of that loss motivated the Warriors going into the 2010 season.
"We were coming back with primarily the same team. At that point we were like, what do we have to lose?" said Nikki Legg Seaman, who was a senior on the team. "That was the goal the whole year. We went and proved we could do it and now there's no excuse not to."
"There was a newspaper article that myself and the team were crying in a picture. [People] would put that picture in front of our faces. We had to win, we had to have the celebration picture the next year," said Tricia Hood, a junior on the team. "We had to win it. There was no other option. That was it for us. We had the best team possible on the field."
"It definitely lit a fire in us because I felt like we had a point to prove and we had a vision at the end of the season," said Riley Morris, a freshman on the team. "We just wanted to make it back and prove that we belonged."
"We didn't have quite enough speed or quite enough offense. That was the biggest thing we took out of 2009," said Scott Streiffert, who coached the Warriors for 20 years. "We had to get faster."
Waccamaw went 34-1 in 2010 and beat Crescent for the first state title in program history.
Crescent, located in Anderson County, was the defending state champion in 2020 and ranked No. 1 in Class 2A. Waccamaw was ranked No. 2.
That didn't bother Ashley Czechner, a senior on the team and one of the most dominant pitchers in the state in 2009 and 2010.
"Once you're No. 1 the only place you can go is down," she said. "I was definitely OK with being No. 2 because we ended up winning. We were No. 1 at the end and that's all that matters."
"There was a lot more pressure on everybody. There was a lot higher expectations," Streiffert said. "There was a burning desire with that group to win. That was the goal from day one that year. Anything less than that was going to be a big disappointment."
As the season wore on, Waccamaw was rarely challenged and the wins piled up.
When Cane Bay took an early lead in the second game of the playoffs, it was the first time the Warriors trailed all season. Waccamaw came back to win 3-1 and clinch the District VII championship.
Before game two of the Lower State playoffs against Barnwell, the Warhorses coach was quoted in a newspaper article as saying that all they had to do to win was score a few runs because Waccamaw didn't score many runs.
"I think [Czechner] took offense that," Streiffert said.Barnwell "was probably the biggest roadblock to getting to the state championship."
Czechner pitched a perfect game and hit three home runs as Waccamaw cruised to a 10-0 win.
"We as a team worked so hard and I even didn't mind being the underdog because I knew how competitive we were and I knew how good we were. It just fueled our fire," Czechner said. "People can talk all they wanted. We were ready to show out on the field and show them what we were made of and a team to be reckoned with."
A 10-0 win over Dillon in the Lower State final sent the Warriors to a rematch with Crescent in the state championship.
After the Warriors beat the Tigers 4-1 in game one at home, Crescent won game two 3-0 on their field. It was the Warriors' first loss of the season after 33 straight wins.
"We hadn't lost all year and I thought 'I don't know how we're going to react to this,'" Streiffert said. "That was probably the most worried I was all season."
In the championship game at White Knoll High School, Waccamaw shut down Crescent 4-1 for the title. Morris caught the final out of the game.
"I saw the ball go up and I looked at [Riley] and she had this huge grin on her face and I remember thinking, it was just like a movie, it just seem like time stopped," Streiffert said. "And I remember, for a split-second thinking, it I could freeze time right now, this is the time to freeze. You know when that ball comes down you're going to win the state championship. It was cool."
"I can still remember being in the outfield and watching that pop fly go in the air and going to Riley," Seaman said. "I remember standing there thinking 'this is it, it's going to a happen. She's going to catch this ball and we're going to win and it's going to be awesome and we're going to make history.'"
Czechner played college softball at the University of Maryland and LSU but never experienced the atmosphere of that series.
"I still believe that playing Crescent for the state championship was one of the most difficult teams and environments that I've ever played in," Czechner said. "I feel like that atmosphere, playing against those girls and their fans, there was really nothing like it. It was an amazing series."
Many of the players stay in touch with each other and Streiffert.
"I still keep up with a lot of girls on social media. It's crazy to see how much our lives have changed and evolved," Czechner said. "It feels like we could all get together and relive it and it would feel like it was just yesterday."
The death in November of 2018 of Casey Altman, who was a member of the state championship team, reunited the Warriors in grief. It was the first time some of them had seen each other since graduation, Seaman said.
"It's a big testament to her role on our team and her presence on our team that we came together and we were able to get a nice flower arrangement to send to her family," Seaman said. "That was something we were able to all come together for. In times like that, you still have your team and you still have those connections after all these years."
In 20 years as Waccamaw's head coach, Streiffert compiled a record of 410-162. Along with the state title in 2010, the Warriors won Lower State titles in 2009 and 2013. Waccamaw only had one losing season during that time.
"It's really a testament to what coach Streiffert built all those years to why we were so successful as a team," Seaman said. "He made a program that was based on family, and relationships and working hard and doing it for one another. He was a big part as to why we were successful."
"He's a great man and a great coach," Morris said. "That's why we did so well. Definitely there was talent on the team, but the family and selflessness that we had … I think that really helped us eventually win."