Thinking outside the pasture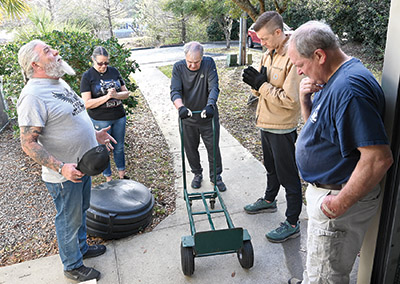 James Boudreau, left, of F.R.E.E. Ministry leads a prayer after picking up his first batch of meat. He was once homeless and ate from a Dumpster, he said.
The cows are gone. Even the farm is gone.
But the mission of The Outreach Farm remains the same: provide protein to people who really need it.
The challenge the nonprofit's board now faces is letting people know it still exists, and still needs money.
"Without the farm, without cows on the highway that people can come by and wave to, you don't have any visibility," the Rev. Rhett Talbert, a board member, said. "We're totally behind the scenes. But the folks that we provide protein to really depend on us."
Talbert was invited to join the board in 2009 while he was serving as associate pastor of Pawleys Island Presbyterian Church. He has since retired.
Mike Lovullo started Outreach Farm with three cows at a farm in Hemingway in 2003. The cows were raised until they were large enough to be processed for their meat, which was then donated to organizations and charities that prepared and served free meals.
In 2005, some of the cows were moved to a field on Waverly Road. That was also the year the nonprofit started the "Run 'Til the Cows Come Home" 5K race and walk. The course passed the grazing herd.
By 2007, the nonprofit owned 70 cows.
Around 2013, the Outreach Farm board realized it cost them about $12 to produce a pound of hamburger.
"We were raising cows to marketable size, we were paying someone to manage the herd, we had to get veterinarians to come in, cart them off to market to have them processed," Talbert said.
That was unsustainable.
"We nearly shut the whole thing down because it was embarrassing to find out," Talbert said. "A couple of us were aware how our meat was being used to feed people in protein deprived communities, most of them if not below, then close to the poverty line. We felt it was important to keep that up somehow."
Around the same time a board member who was an employee at Sysco, a wholesale food distributor, said the nonprofit could buy other types of protein, like chicken and pork, from the company for less than $2 a pound.
The nonprofit sold its cows and equipment and got out of its leases for land and barns.
"We got out of the farming business. We liquidating everything and turned it into money to buy protein," Talbert said. "We've been focused since then on stretching our food dollar and acquiring protein and trying to do some fundraising so we can stay in that business."
The nonprofit also buys protein from U.S. Food, another wholesale distributor. Most of the items are from orders that were never picked or from someone who ordered more than they could use.
Outreach Farm receives one or two deliveries a month. The protein is stored in a walk-in freezer at Teach My People, an after-school mentoring program in Pawleys Island, and distributed once a month.
"All of the people we provide meat to have been great partners," Talbert said. "The majority of them are church related, or Christian-focused groups, whether they're recovery groups or soup kitchens at churches. But not all."
Before the COVID-19 pandemic Outreach Farm was distributing about a ton of protein every month. That number dropped a little because some places, like the Bread of Life Kitchen at Pawleys Island Presbyterian Church, switched to bag lunches.
Most of those are resuming normal operations and Outreach Farm again is back up to about a ton per month.
More than 2,700 pounds of protein was distributed on Monday
"We have as many clients right now as we've ever had," Talbert said.
One of those clients is Father Pat's Lunch Kitchen at Precious Blood of Christ Catholic Church.
Rocky Gray, the events coordinator for the church, also makes sure the lunch kitchen has all the food it needs.
"It's incredibly important to have protein because it's a large portion of the diet for our clients, what we provide," Gray said.
Outreach Farm approached Precious Blood about supplying protein for the lunch kitchen a few months ago.
The lunch kitchen was closed for two years because of the pandemic. During that time volunteers supplied to-go meals.
Before the pandemic, the lunch kitchen was feeding about 75 people a day. Since it reopened for dine-in and take-out, Gray said that number has increased to between 100 and 130 meals.
Last year, Outreach Farm supplied enough meat for more than 200,000 meals.
When it started, it was focused on providing protein the entities in Georgetown County. It now serves Horry County.
Outreach Farm is also looking to expand into rural Georgetown County, but is having a hard time finding organizations that serve prepared meals.
"It's kind of food desert in terms of entities that are providing food like that," Talbert said.
Outreach Farms' largest fundraisers used to the the 5K and a chili cookoff.
After those two events ended, the biggest moneymaker in recent years has been selling handmade Christmas mailbox wreaths, a project that started in 2010.
"That's been very successful," Talbert said. "People in DeBordieu all the way up to some in South Litchfield really love them. It's been huge for us."
Donations can be made at theoutreachfarm.org or by sending a check to Outreach Farm, P.O. Box 644, Pawleys Island, SC 29585.