Thomas takes up gavel as County Council chairman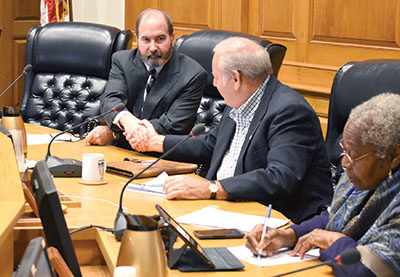 John Thomas, left, is welcomed to the chairman's seat by Ron Charlton, who also sought the position.
John Thomas, who won re-election to County Council District 1 by 67 votes last year, was elected council chairman this week by 4 votes.
The vote followed a complaint from three groups, including the county's NAACP chapter, that the council's vice chairman, Austin Beard, no longer lives in his district as required by ordinance.
Beard, who represents District 5, was in line to succeed Johnny Morant, who did not run for re-election to council last year. Instead, Beard withdrew his name the night before Tuesday's council meeting.
"When it became apparent that Austin was not going to be able to seek the chairmanship, I thought that I needed to step forward and provide a continuity that Austin was going to provide," Thomas said after the meeting.
Thomas, now in his second term, initially thought about running for vice chairman, but deferred to Council Member Lillie Jean Johnson, who has served longer. It was Johnson who nominated Thomas for chairman. She was elected vice chairman.
Council Member Everett Carolina nominated Ron Charlton for the chairmanship, a position Charlton has held in the past. Without a chairman or vice chairman, since Beard was absent, the county attorney Wesley Bryant ran the meeting. (Administrator Sel Hemingway was also absent.)
Under Roberts' Rules of Orders, the council had to deal with Johnson's motion first, Bryant said. If it failed, the council would take up Carolina's motion. Thomas won with the support of Council Members Steve Goggans and Louis Morant, who was elected to his brother's former seat.
Thomas is the first Waccamaw Neck resident to chair the council.
People who had filled the seats in the council chambers for the swearing-in of Thomas, Goggans and Morant and to encourage the council to investigate Beard's residency were clearly taken by surprise.
"We came here for one thing, and as always with County Council they threw a curve ball at you in the 11th hour," said Wesley Gibson, a Georgetown resident who serves on the executive board of
the NAACP. "James Austin Beard was supposed to be running for chairman of County Council. He's not here."
Beard and Carolina clashed last year over projects included in the final phase of the county's capital improvement plan. Gibson and other residents of Georgetown's West End have, like Carolina, complained that too many of the improvements go to the Waccamaw Neck.
The council will take up capital projects again when it decides how to spend $19 million in excess sales tax collected following voter approval of the tax in 2014. "We have to show the people of Georgetown County that we can allocate that money in a way that they voted for in the referendum," Thomas said. "That will pave the way for another round of the penny sales tax. We have to show the people that we're good stewards."
But the questions raised about Beard's residency are also falling on other council members. "Some of the council knew he was living in Georgetown" rather than the address he gave in Andrews, said Marvin Neal, president of the NAACP chapter.
He said the organization looked at all the council members as part of a national initiative on transparency. He said it wasn't focused on Beard, but that Beard stood out because he was the only member who listed a post office box rather than a physical address on his contact information.
The NAACP looked at the statements filed when Beard ran for council. It also looked at his marriage license, issued when he married for a second time last year.
On New Year's Eve, Gibson went to the address at 510 North Magnolia Ave. that was listed as Beard's address in his campaign filing. The owner said the property was for sale. Only the owner's belongings were in the house, although he rented part of the space to a woman running a small business.
"It's election fraud," Gibson told the council this week. "We want an investigation by SLED to find out how y'all allowed him to serve for so many years."
Neal called on Beard to resign and for a special election.
Beard did not attend because he has been sick, Thomas said. Beard could not be reached for comment.
Council took no action on the NAACP's request to investigate. Neal said they planned to present their information to the county Board of Elections and Registration on Wednesday.
Since there is no election pending, "it's currently not an election issue," said Chris Whitmire, spokesman for the state Election Commission. He pointed out that in partisan races, the political parties are charged with checking a candidate's qualifications. Beard ran as a Republican.
State law defines residency as "an intention of returning," Whitmire said. The law allows people to challenge a voter's registration before the county board. The board would hold a hearing."Even if the board decided he doesn't live there, that doesn't take him off County Council," Whitmire said. "That would be a matter of someone going to court."
He said such legal challenges are rare at the county level and that there are one or two a year at the state level. "It's even more rare for them to be successful," Whitmire said.
Thomas has seen the complaints from the city's West End building over recent months. "I've always considered myself a representative, not just of District 1, but of the whole county. I think every council member should have that view," he said. "As chairman, there's more responsibility for looking at the whole county."
He plans to take his lead from his predecessor. "Johnny provided a steady hand, a calming influence," Thomas said.
Goggans said that appealed to him, although he was also contacted by Charlton. He and Thomas were sometimes at odds when first elected. "We've not only endeavored to mend some fences, we've begun to understand each other," Goggans said.
Update: The Georgetown County Board of Voter Registration and Elections has scheduled a hearing on the complaint over Beard's residency for Jan. 18 at 10 a.m. in the County Council chambers.