Thousands of candles and a few rings as well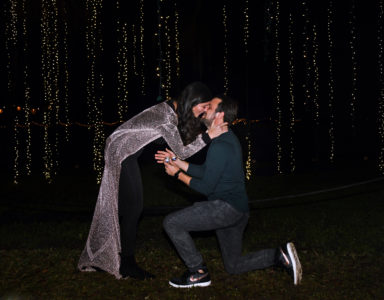 Charlotte Woodward says yes to J. Robertson under a canopy of lights in the Oak Allée.
John Paul "J." Robertson IV grew up attending summer camps at Brookgreen Gardens.
So when the 29-year-old decided to pop the question to his girlfriend, Charlotte Woodward, 28, the location was a no-brainer.
"When I thought about getting engaged I wouldn't want to do it anywhere else," Robertson said.
Robertson asked and Woodward said yes during the Garden by Candlelight event at Brookgreen on New Year's Eve.
"She was not expecting an engagement," Robertson said.
"I was definitely surprised," Woodward said. "I had no clue it was coming."
The couple arrived at Brookgreen around 6 p.m. and spent about two hours enjoying the decorations still on display from Nights of a Thousand Candles.
"He was really calm," Woodward said. "I didn't expect anything."
Robertson had booked a photographer to meet them at 8 p.m. in the Live Oak Allée. When the big moment arrived Robertson got down on one knee and proposed in front of the hundreds of lights hanging from the oak trees.
"If I could have picked anywhere it would have been there," Woodward said.
After saying yes, Woodward called her parents, who were not surprised since Robertson had already spoken to her dad about his intentions.
Robertson grew up in Raleigh but spent his summers with his grandparents, Anne and Howard Burgin, who lived on Pawleys Creek for many years. Woodward grew up in Columbia.
The couple, who have been dating since May 2014, both work for software companies and live in Johns Island. Nights of a Thousands Candles is an annual outing for them.
"Brookgreen is a super special place for us," Woodward said. "My birthday is in December so we normally go at that time."
"We just love it," Robertson said. "We always go back every year."
This year they celebrated Woodward's birthday in Jamaica so they decided to attend the New Year's Eve event instead.
Woodward said Robertson has suggested a summer 2020 wedding date.
Lauren Joseph, marketing director for Brookgreen, said more than a dozen couples got engaged this year during Nights of a Thousand Candles.
"We love it that so many couples want to start their lives at Brookgreen," Joseph said. "It's still the most romantic evening in South Carolina."
The Live Oak Allée is a popular place for engagements, Joseph added, with four happening there at the same time last year.