Top angler finds glory along the Waccamaw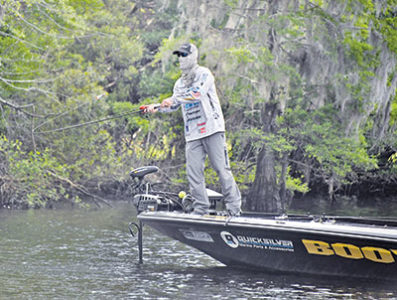 Stetson Blaylock fishes at Sandy Island.
Stetson Blaylock came to Georgetown last week to do a little fishing and went home $100,000 richer on Sunday.
The angler from Benton, Ark., won the Bassmaster Elite tournament by catching 50.15 pounds of fish, nine ounces more than the second-place finisher, Scott Canterbury of Odenville, Ala.
"I look back at every bass I lost this week and think 'Gosh, I should've caught that one,'" Blaylock said. "Today, I had one good one that jumped off that would have been another two pounds. When that kind of stuff happens, you're not supposed to win, but when it's your time, you can't do anything wrong."
Seventy-five anglers set off on days one and two of the tournament from the Carroll Campbell Marine Complex in Georgetown. After Friday's weigh-in, the field was cut to 35 for Saturday's for semi-finals. Only the top 10 fished on Sunday.
Blaylock was in 11th place after the first day and moved up to sixth on the second. After reeling in 17.15 pounds of bass on Saturday, including one that weighed five pounds, he was om first place going into the final round. His 9.3 pounds of bass on Sunday was just enough to edge out Canterbury, who reeled in 16.2 pounds in the last day.
Unlike many of his competitors who spent more than 90 minutes each day racing south to the Cooper River, Blaylock found a spot near Sandy Island, preferring less travel and more fishing.
"I've never been here before, so I went to where I knew there were some fish," Blaylock said. "That gave me the entire day to fish."
Cory Johnston drove from Canada to compete. He caught 49.5 pounds of fish in the Cooper River, good enough for a third-place finish and $20,000.
"I seem to have good luck in tidal fisheries," Johnston said. "Being able to read the tide and figure that out, you just kind of know where to look."
It was Johnston's first visit to the South Carolina coast.
"It's a long way and it's cold up there," Johnston said. "It's good to get down here in some warm weather and catch some bass."
Patrick Walters of Summerville used his knowledge of the Cooper River to reel in 44 pounds of fish and finish seventh. His 12.08 pounds on Saturday earned him 10th place and the last spot in the finals.
"Sometimes it actually hurts you [because] you have a lot of history here so you run the history and you're not necessarily fishing for the fish that are actually there," Walters said. "This week definitely it helped a little bit knowing the run and the areas a good bit."
Walters turned pro after he graduated from the University of South Carolina last year. He took home $16,500 for his four days of fishing, plus $1,000 for leading the Angler of the Year race. Walters is now in the lead for Rookie Angler of the year, earning a $500 bonus.
"You get to do what you love," Walters said. "Being in the outdoors and fishing for a living is something you can hardly dream of. It's amazing."
Walters and Canterbury are at the top of the Bassmaster Elite leaderboard with 360 points going into the next event, which is May 2-6 in Lake Fork, Texas. Blaylock is in third place with 341 points.
During each day's weigh-ins, some of the area's young anglers got a chance to help out backstage, passing out water, disposing of the fish and getting a lot of autographs.
Edgar "Cubby" Weaver, a sixth-grader at Coastal Montessori Charter School, said he loves fishing because you never know what's going to happen. His favorite fisherman is Scott Martin, who competes with Fishing League Worldwide.
Weaver and Chapel Miller, a seventh-grader at Georgetown Middle, are partners on the Georgetown Middle fishing team. Miller said he mostly fishes in ponds, not the area's five rivers.
The weigh-ins also attracted hundreds of spectators, many of whom set up chairs more than an hour in advance to ensure a good vantage point.
"I'm extremely pleased with how everything went. We had a very large, enthusiastic crowd, which Bassmaster loved," said Georgetown County Administrator Sel Hemingway. "The public really came through again in that area and made the anglers feel appreciated and very much wanted and welcome here. Bassmaster was also very pleased with the venue and the accommodations and all that we provided on our end as well. All indications are that we can expect the Elite series back in Georgetown on a future date."
Prior to the weigh-in for Saturday's semi-finals, country music singer Jason Michael Carroll took to the stage to sing the national anthem. Carroll was in town for a concert in downtown Georgetown that night as part of the Music in the Park series.
Carroll grew up fishing and still loves it.
"I love the water," Carroll said. "To be able to come out and be a part of this [tournament] has been amazing to me."
It was the fourth straight year that Carroll has performed in Georgetown. He said the area reminds him of his hometown in Youngsville, N.C., and he and his wife are thinking of settling here when their kids graduate from high school.
"This is the first place I've been to in a long time that has that feeling of community," Carroll said. "How can you not love this place."
"The concerts were very well-attended. I believe a lot of the anglers and their families, especially the ones who weren't fishing on Saturday and Sunday, attended and had a good time," Hemingway said. "Those were a great complement to all that was going on at the marine complex. They really rounded out the experience and helped make it clear that the whole community was rolling out the red carpet for this event."
Along with the fishing tournament the marine complex was also the site of the Winyah Bay Heritage Festival on Saturday and Sunday. Thousands of people attended to eat and drink; watch magic shows and retriever and herding dog demonstrations; and shop for crafts and fishing and hunting equipment and gear.