Top manager goes (not strictly) by the book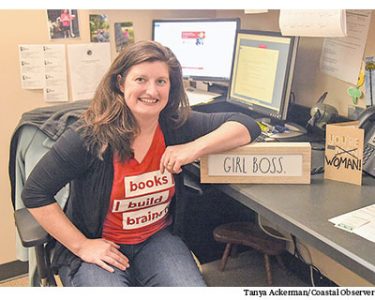 Tamara McIntyre was named the county's manager of the year for 2019.
Less than three years into her tenure as director of the Waccamaw Library, Tamara McIntyre was named Georgetown County's manager of the year.
"It shows that your hard work is appreciated, it's nice to know" McIntyre said. "It's nice recognition for the library [and] that the county sees that the library is important."
McIntyre, who took the job in March 2017, supervises 14 employees and a $600,000 budget.
"What she's accomplished is extraordinary," said Dwight McInvaill, director of the county library system.
McIntyre's favorite part of her job is helping people get information, whether it's a member of the public or one of her staff.
"Making sure people have what they need," she said.
McIntyre was surprised after she arrived at the amount of non-residents who use the facility, whether vacationers who rent or second-home owners.
"Different times of year it fluctuates," she said. "That makes it really interesting,"
The library will mark its fifth anniversary on Feb. 14. The 17,000-square-foot facility cost $3.5 million to build and is more than double the size of the old library on Commerce Drive.
Waccamaw was the busiest of the county's four branches last year, with 32,114 customer checkouts, more than 10,000 uses of library computers, 25,000 inquiries at the reference desk, and more than 86,000 items borrowed.
"The population is out here," McIntyre said. "We keep growing and [the branch is] newer."
The library averages 16 community meetings and eight programs every week.
"How much the meeting rooms are used is wonderful," McIntyre said. "Sometimes you go to lunch and when you come back there's no parking."
The parking shortage will soon be alleviated with the addition of a 26-space lot attached to the current lot on the side of the building.
The library has become the community center that McInvaill and the Friends of the Waccamaw Library envisioned when they spent years advocating for a new facility to be built.
"It offers a bevy of cultural opportunities," McInvaill said.
"We have someone on staff full time to do programming so we can do a lot more and we have the Friends group that supports all the extras that we're able to do," McIntyre said. "Libraries have changed. It's more of a community space for people to get together. It used to be where you came to get your information and then leave."
McIntyre said unlike years ago when libraries were quiet places, if somebody arrives now and needs a place to study, or a home-school student needs take a test, library staff will find a quiet room for them.
"There is so much interaction going on," McIntyre said. "If you haven't been to a library in a long time since you were a little kid, you don't realize how much it has changed."
McIntyre praised her "dedicated and creative" staff, McInvaill and his staff, and the Friends members.
"They're very supportive of what we want to do and the administration is very forward thinking and also supportive," she said. "We couldn't do it without all three."
McInvaill called the Waccamaw branch the "jewel in the crown" of the county library system.
"It's been an incredible step forward for the county, the public and the library system," he said. "The present is bright and the future will be even brighter."