Town administrator resigns over conflicts with council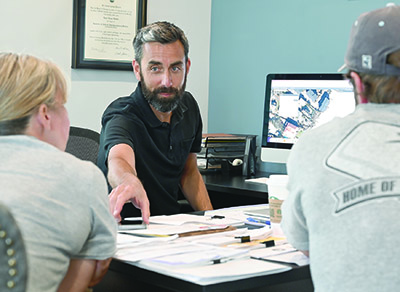 Ryan Fabbri answers questions about building regulations for visitors to Town Hall.
The Pawleys Island town administrator resigned this week citing conflicts with members of Town Council.
"It's unfortunate that it's had to come to this after nine years of dedicated and faithful service to the Town," Ryan Fabbri said in an email to the council members.
He will leave Town Hall on June 2.
Fabbri is the town's first administrator. Before he was named to the position in 2015, the mayor had served as a part-time administrator. Fabbri was hired in 2013 as the assistant administrator by then-Mayor Bill Otis.
His resignation follows the departure of the town clerk, Preston Janco, who took a job as a planner with the city of Myrtle Beach.
In his letter to council, Fabbri said "recent events have given me cause to reevaluate my employment with the Town of Pawleys Island."
Speaking at his office in Town Hall, he declined to elaborate about those events, but said "the environment here has become unbearable for me."
Fabbri's letter of resignation was accompanied by an email to the council members that said, "I have found that select members of council have malicious intent and have made the workplace disruptive and uncomfortable for me."
He said that he hired an employment attorney to work out a separation agreement. Fabbri's attorney contacted the town attorney, David DuRant, last week. That was rebuffed, Fabbri said.
In his email, he said "it came to my attention not all of the council was informed it was my intent to mediate."
Mayor Brian Henry said the move took him by surprise.
"I didn't see it coming," Henry said. "It's news to me."
But it wasn't news to everyone.
"We've already had folks express interest in the job," Henry said on Tuesday, less than 24 hours after Fabbri submitted his resignation.
Fabbri's employment contract with the town is up for renewal in July. He said he first asked Henry about the renewal 18 months ago.
"There was no indication they wanted to renew," Fabbri said, but added that he could have worked without a contract.
The initial contract was for $96,500. It was passed by a 3-2 vote after months of delay.
Council Members Rocky Holliday and Guerry Green cast the dissenting votes.
Holliday said the council should have spent more time reviewing the administrator's role.
Green was concerned about the cost, saying it represented 12 percent of the town budget. Fabbri pointed out that the average administrative cost for towns in the state was 20 percent and that he represented almost all of the town's administration.
The contract included a severance package of 180 days of pay if he was fired without cause.
Fabbri said he thought council members were trying to create grounds to fire him. He said that DuRant told his attorney that was not true.
"At the end of the day, it doesn't matter," Fabbri said. "They got what they wanted."
He said he is proud of his work on the town's beach renourishment project, the project to bury power and cable TV lines and the construction of the Town Hall. He also managed six federally-declared disasters during his tenure.
"I hate the way this is ending," Fabbri said.
Losing its only two non-police employees ahead of the tourist season will be difficult, Henry said.
"We've got to focus on finding a transition," he said. "We want Town Hall to be welcoming and staffed."