Town considers taller houses to gain steeper roofs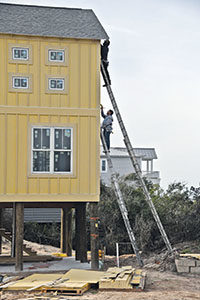 New homes with higher ceilings require flatter roofs to meet the current height limit.
Houses on Pawleys Island will get taller and their roofs will get steeper under a proposal headed to Town Council. It is part of an effort to retain the traditional look of island beach houses as new houses replace old ones.
"Anything we can do to get that roof pitch back makes the house look better," said Fran Green, a member of the Planning Commission.
The town now has a 30-foot limit on building height. It requires a 6-12 roof pitch (one that rises 6 inches for every 12 inches in width), but the development code doesn't specify how much of the roof needs to meet that requirement. New houses are being built with higher ceilings. To fit those within the height limit, the roofs have to be flatter. "It's looking like a box," Green said.
The commission voted last week to recommend the town raise the height limit to 35 feet and require a 7-12 roof pitch. "You just make it very specific. That is the pitch," Town Administrator Ryan Fabbri said.
That will prevent people from building houses with even taller ceilings, but flatter roofs, he said.
David Graham, the architect for the new Town Hall, will help draft the language that must be approved by Town Council. He told the commission that under the current rules a two-story house on a 60-foot wide lot could only comply with the 6-12 pitch if the ceilings were 8 feet high. With a 35-foot height limit, the same house could have 9-foot ceilings and an even steeper 8-12 pitch.
"As a designer, Pawleys Island, that roof pitch is important," Graham said.
Commission chairman Jimmy McCants pointed out many lots are only 50 feet wide. With the narrower lots, the pitch could be steeper, Graham said.
"Do you recommend 35?" McCants asked.
"Well, yes," Graham said, adding that it allows more flexibility.
The steeper pitch will only apply to the main roof. Dormers and porches can have a gentler slope.
In areas where houses must be elevated to meet federal flood regulations, "you could get a 50-foot house on the island," Graham said. The flood elevation isn't included in the building height limit.
But Fabbri said the extra height would mostly be roof. He told the commission that pending changes to the maps used to determine flood elevations will actually result in new homes being built lower than many existing homes.