Town hires clerk, but administrator takes early leave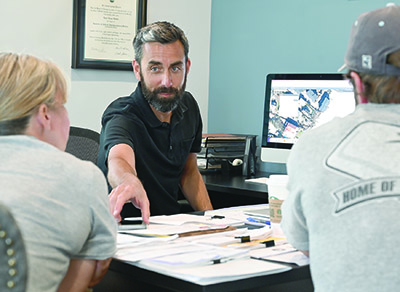 Administrator Ryan Fabbri resigned May 2. The search is underway for his replacement.
The town of Pawleys Island has a new clerk.
It does not have an administrator.
Ryan Fabbri, who resigned earlier this month, left Town Hall last week. He had been expected to stay until June 3.
"Essentially, I was very clear about the reason I left," he said. "The two weeks that I did make it, it was very stressful for me. I felt like I was there against my will."
In his resignation, Fabbri cited conflicts with council members, but did not elaborate.
Mayor Brian Henry is now in the office at Town Hall from 10 a.m. to 2 p.m. He will keep the doors open to the public until Daniel O'Hara starts work as town clerk on May 31.
"I think he was just done," he said of Fabbri's departure after
nine years with the town. "Ryan served the town well."
The town began advertising the position of administrator last week. It has already generated interest from across the country, Henry said.
"I feel good about the prospects," he said.
Town Council voted last week to let Henry hire the clerk and initiate the process to hire a new administrator.
O'Hara was one of about a dozen applicants to replace Preston Janco, who left the town in April to take a job as a planner with the city of Myrtle Beach. He has experience working in government offices that are short-staffed.
O'Hara graduated from Coastal Carolina University this month with a degree in marine science. He was an intern with the university's Georgetown RISE program during his last semester. He worked with the Georgetown County planning department. Although the internship started in January, O'Hara started work in December because the department was down to two employees just as it was trying to restart the process of updating the county's future land-use plan.
"He's got really good customer service skills," said Holly Richardson, the county planning director. "It did help then. It was just another hand to grab the phone."
But Richardson said O'Hara's contribution went beyond that. He helped get out the community surveys that were a major component of the land-use project. Once that printed and online surveys were completed, he compiled the data in a report to the Planning Commission.
"He had to jump in and figure that out for himself," Richardson said. "I wanted to give him the opportunity to present the report. He was a great public speaker."
Henry was equally impressed. O'Hara is currently on a trip he had planned to follow his graduation, but he spent three days at Town Hall last week with Henry and Police Chief Mike Fanning.
Henry said they had calls from the Army Corps of Engineers about recent work to complete the town's 2020 beach renourishment project, a request for information about the ghost of Alice Flagg and several applications for golf cart permits.
"You don't realize all the requests," Henry said. "A lot of the calls we get are off-island."
O'Hara also sat in on a phone conference with Nicole Elko, the consultant hired by the town last month to develop a plan to deal with sea-level rise. It is focused on Pawleys Creek and protecting the marsh.
As part of his Georgetown RISE internship, O'Hara did research on wetland protection and Georgetown County's zoning ordinance.
During the conference with Elko, "his eyes lit up," Henry said.