Town considers request to allow fireworks show over creek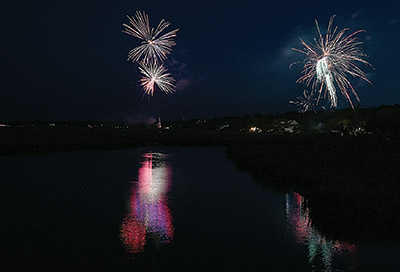 Legal fireworks could return to Pawleys Island for the first time this century under a proposal being reviewed by Town Council
The display would be shot from a barge in the middle of Pawleys Creek over Labor Day weekend to mark the 60th anniversary of Pawleys Island Realty.
"Labor Day weekend is traditionally our thank-you to our homeowners," Betsy Altman, owner of the company, told the council. "We want to show gratitude to our homeowners, vacationers, vendors, and give them something to enjoy."
The company sponsored a fireworks show at midnight on Jan. 1, 2000 to mark the start of the new millennium. That was shot from Pawleys Pier with the town's approval. The town bans the use of fireworks otherwise.
Altman is working with Brent Munnerlyn of Munnerlyn Pyrotechnics in Lexington to produce the show. The firm does shows for the city of Georgetown, Isle of Palms, Sullivan's Island and Beaufort, among others.
"These are the things at New York City, Macy's," Munnerlyn said.
The largest shells would reach 500 feet and have a 350-foot spread.
Using a barge would allow a safety perimeter of 150 feet before the show and 350 feet during the show.
The town limits run to the middle of the creek and council members were unsure if the town would have jurisdiction.
Munnerlyn said he will have all state and federal permits.
He also said debris would be minimal and mostly cardboard although some plastic is used in the fuses.
Altman said she doesn't plan to promote the event outside her customers, but it will be visible from Litchfield to DeBordieu.
"The main thing is to see if you all would allow us to do this in Pawleys Creek," she said.
Mayor Brian Henry was concerned about the impact on the creek and the precedent. "We're not in the business of permitting spectacles to benefit a single business," he said.