Town officials pass up raises to help council send message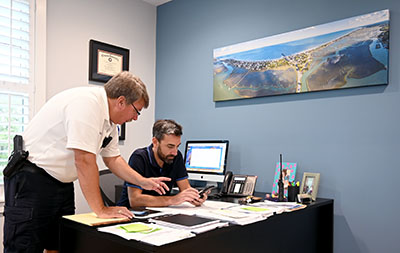 Police Chief Mike Fanning and Administrator Ryan Fabbri at Town Hall during Hurricane Dorian.
Pawleys Island's two top officials will give up $5,100 in salary increases to meet the Town Council's goal of a 5 percent spending cut. That will leave the town with a $130,000 surplus for the fiscal year that begins Jan. 1.
Mayor Brian Henry said the $14,300 in cuts were necessary to send a message as the town tries to rebuild reserves to maintain the beach that is being renourished with 1.1 million cubic yards of offshore sand. "We set out to tighten our belt and sharpen our pencil," he said.
"I think we're sending the wrong message," Council Member Sarah Zimmerman said. Referring to a decision earlier this month to give $15,000 to the island's nonprofit beautification committee, she added "we're worried about making sure there are flowers in front of the old Town Hall instead of taking care of our administrator and chief of police. I have a problem with that."
Administrator Ryan Fabbri agreed to give up $2,000 and Police Chief Mike Fanning to give up $3,100 to meet the council's target. Fabbri is under contract gets an annual increase in August. Fanning was due to get the extra money as part of a plan approved by Town Council last year to bring police pay in line with the Georgetown County Sheriff's Office.
"No one told us we had to do it," Fabbri said, adding that the budget was already tight before the council asked for the cuts. "There is no fluff at all. That is something we had control over."
Council delayed a final vote on the budget Dec. 9 and scheduled a special meeting a week later to give Fabbri time to find additional cuts. He had already removed a scheduled purchase of a police car to replace a 2014 model and the budget showed a $115,000 surplus.
But the town is in the midst of a $14.4 million beach renourishment project that will use up a $6.1 million reserve built up from local accommodations tax and require borrowing $2.8 million that will be paid with a portion of future accommodations tax collections. The balance will come from a state grant.
With its reserve depleted, the town could find itself without funds to repair the beach if damaged by a storm even though 75 percent of the cost would be covered by the federal government in the case of a named storm.
The town doesn't have a property tax. State and local taxes on short-term rentals make up the largest share of its $1.06 million in operating revenue.
"We've still got money in the bank," Henry said. "I don't want it to sound like gloom and doom. I think we're being responsible with the budget."
But the cuts shouldn't come from the administrator's and the chief's salaries, Zimmerman and Council Member Ashley Carter said. "There are other ways," Carter said.
Zimmerman proposed raising the entry fee for the Pawleys Island Fourth of July Parade from $15 to $25 and the price of the parade T-shirts from $18 to $20. She also wanted to raise the entry fee for the Turtle Strut road race from $35 to $40.
Those would cover the cost of the raises, she said.
Carter voted to support Zimmerman's proposal. Henry and Council Member Guerry Green were opposed. Council Member Rocky Holliday, who supported the need for cuts, was absent.
The 2-2 vote left the town without a budget for 2020.
Green proposed adopting the budget proposed by Fabbri, which also included cuts in printing, supplies and trash pickup. He questioned whether Fanning was actually due to receive the pay increase. "It's presumptuous to say you're giving up something when no one said you deserve it," Green said.
Carter said he and Holliday met last year with Fabbri and Fanning over police pay. The council later agreed to a 9 percent increase over two years after cutting one full-time position from the police department.
Henry said he was satisfied Fanning was willing to give up the raise. "The man told me directly he was willing to do it," he said.
Carter and Zimmerman were unmoved.
"We wouldn't have proposed it if we weren't OK with it," Fabbri told them, adding that the town needed a budget. "I shouldn't even be talking like this. It would truly make my job less stressful."
Carter joined the 3-1 majority, saying he would like the council to revisit the spending plan in the new year.
"I know it's not easy," Henry told Fabbri. "I respect where you're coming from."