Town wants to team up for creek project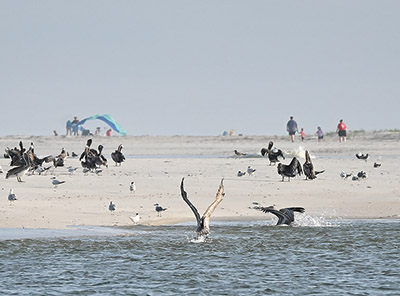 A shoal in Midway Inlet at high tide has raised concerns.
The town of Pawleys Island wants to work with its neighbors across Midway Inlet on a project to remove silt from the creeks.
"Maintaining the creek is something we all know is vital," Mayor Brian Henry said.
It is one of four priorities in a strategic plan adopted by Town Council in 2020. The board of the Litchfield Beaches Property Owners Association has been gathering information about dredging in Clubhouse Creek, which enters the north side of Midway Inlet. Henry suggested the town work with the association.
"We've got to start somewhere," he said. "Maybe the first thing is to get a study."
That's what regulators told the POA. That would determine the scope of the project, its feasibility and its cost.
Pawleys Island dredged almost 40,000 cubic yards of sand from portions of Pawleys Creek at each end of the island in the winter of 2007-08. It was pumped onto the beach.
Town Council agreed this week to get a recommendation from the firm that designed the $14.8 million beach renourishment project that the town completed in 2020 about a creek study.
Council Member Ashley Carter noted that there is a large amount of sand building up in Midway Inlet between Pawleys Island and Litchfield Beach. "It's amazing to me," he said. "It's something that's going to have to be addressed or we're not going to have much water in the creek."
Council Member Rocky Holliday said it makes sense to partner with the Litchfield group, but he noted that the issue with the creeks seems to be navigational rather than environmental.
"I think the creek is healthy, it's just silting in and that's not good," Holliday said.