Trapped in a crater? All in a day's work for rescue team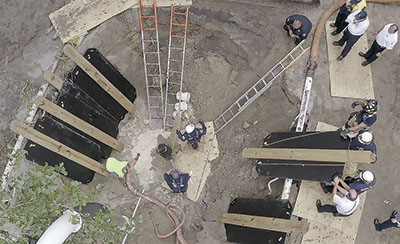 Rescue team members stabilize the patient and the sides of the hole where he was trapped.
When members of the county's Technical Rescue Team responded to a report of trench collapse last week, what they found looked more like a bomb crater than a trench.
"The hole was obviously wider than it was deeper, which creates a whole new challenge," said Matt Smittle, division chief of training and special operations for Midway Fire and Rescue, and a member of the Technical Rescue Team.
A crew from Express Contsruction of Conway had dug a hole on R.B. Thompson Way in Pawleys Island to connect a new homesite to an existing sewer main. One of the workers, a 19-year-old man from Conway, stepped off the sewer pipe and immediately sank in the mud. Eventually, the mud was up to his armpits.
The man was slowly being crushed by dirt, surrounded by water that was pouring into hole, and battling hypothermia, Smittle said.
"As we all know, in Pawleys Island the water table is just crazy, plus the leak they were dealing with, that was an issue," Smittle added.
Firefighters started an IV on the victim to treat him for hypothermia and administered sodium bicarbonate to prevent blood clots.
Meanwhile, water kept pouring into the hole as the man's co-workers pumped water out.
"We were going old school and getting ready to start a bucket brigade to keep him from drowning," Smittle said. "Removing the water was absolutely a priority."
A vacuum truck from Georgetown County Water and Sewer arrived to handle that.
While the Technical Rescue Team was working in the hole, other firefighters were nearby cutting sheets of lumber to shore up the sides of the hole, which proved to be a challenge.
"To use our shoring you have to have some sort of stability on the walls. We couldn't do that there," Smittle said. "We could only put our stabilization equipment to where we hold back the dirt without putting any crossbars in."
Firefighters eventually extricated the man, who was airlifted to a hospital, treated and released. Co-workers said he was back at their office that afternoon.
The county's Technical Rescue Team was started in 2010 and is comprised of firefighters from Midway, Georgetown County and the city of Georgetown. All 18 members volunteer for the team, which trains once a month.
Smittle said applicants must have training in advanced ropes, extraction, water rescue, structural collapse and hazmat to be considered for the team.
The Technical Rescue Team only sees action about twice a year, he added.
"It's one of the low frequency, high hazard calls because we don't run them every day," Smittle said. "But we continue to train on them as much as possible and that's a good thing. It worked out well in this case."