Tree cutting brings call to replace light touch with heavier hand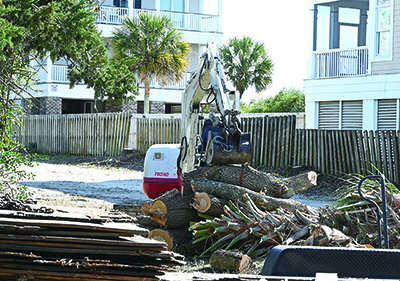 Trees cut on a lot on Atlantic Avenue in January.
Last year it was cedar. This year it was oak.
The cutting of the cedars led the town of Pawleys Island to revive discussion of a tree ordinance. Members of the Planning Commission hope that the oaks that were cut earlier this year will convince Town Council to adopt the ordinance.
"It's more imperative than ever," said John Hildreth, who chairs the commission.
The town first considered tree protection 25 years ago, but dropped the idea after property owners said it would be too restrictive.
The latest push for tree protection followed the town's adoption of architectural guidelines for new houses in 2021. The commission proposed that applicants be required to submit a tree plan. It was part of the "light touch" that the council wanted for new regulations, commission member John LaMaster said.
But council members last year questioned whether the 4-inch diameter was too small and whether the protection should apply to all species.
The commission is now proposing the town protect hardwoods that are 5 inches or greater (measured at "breast height" of 4 feet above ground) and ornamental trees that are 3 inches or greater. Pines over 10 inches in diameter are also protected.
But they also want the Architectural Review Board to approve cutting any protected trees. The board can also delegate that authority to the town administrator.
That would prevent clear-cutting and the removal of protected trees at existing homes, LaMaster said.
"I want to push that next step," commission member Robert Moser said.
The oaks were cut in January along the boundary of a vacant lot on Atlantic Avenue. Hildreth was told the goal was to make the property more attractive to a buyer.
"This right here is what makes the place special," he said of the island's tree cover.
Administrator Dan Newquist said the council had concerns about how the tree regulations would be administered, but he said the process would fit in with the town's takeover of building permits this year. The permits had been administered by Georgetown County under a contract with the town.
"I feel comfortable with the proposal," Newquist told the commission last week.
The commission voted to recommend council adopt the updated ordinance.
Council members have said they support tree protection.
"I just don't want it to be too burdensome," Council Member Guerry Green said in January when the measure was presented to gauge the council's support.
Hildreth said he later talked with Green, who told him he had paid $4,000 for a tree plan for a project in Charleston.
"That would never happen with what we have," Hildreth said.
The commission is also working on another change to the town's uniform development code that would require swimming pools to be within the building setback. They are now allowed within 5 feet of the property line.
"No one really understands why that is the case," LaMaster said, adding that it "is not very popular with the neighbors."
"A pool is much more intrusive, or can be, than a house," Hildreth said.
The town is also looking at tighter restrictions on how pools are drained. That followed an incident following Hurricane Ian where a pool drained during the cleanup flooded nearby property.
The town prohibits draining of pools into the creek, storm drains or sewer system. The commission and some council members suggested that owners be required to have pool water hauled away.
"I could not find any other jurisdiction that does that," LaMaster said.
Instead, he proposed adding language to the ordinance that pools cannot be drained onto neighboring property.
"If you drain it onto your own property, that's OK," he said.
"I don't think we should allow it to be drained anywhere," Moser said.
Commission member Mark Hawn suggested asking owners of existing pools what they do now. That was also proposed by Bert and Carmen Mills, island property owners.
"It appears some may now wish to craft ordinance to make it as onerous as possible on existing and prospective property owners with pools. We encourage the commission not to rush to create ordinance based upon personal preference," they said in a letter to the commission.