Tree rule change blocks cutting of Waverly oaks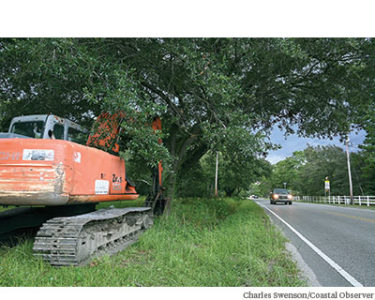 A trackhoe waited under the oaks along Waverly Road in July.
Oak trees along Waverly Road that were in the way of a sewer line can't be cut without approval from Georgetown County under a change to the zoning ordinance approved this week.
The ordinance exempts public utilities. An amendment passed by County Council specifies that private utilities must comply with tree protection rules.
The council gave the change the first of three required readings, but invoked the pending ordinance doctrine that allows the county planning staff to start enforcing the new rule. The measure still has to go to the Planning Commission for a hearing. That will be held in November, Boyd Johnson, the county planning director, said.
The immediate impact is on a subdivision on Waverly Road where a gravity sewer line was bored under a row of 17 trees to reach a Georgetown County Water and Sewer District lift station. The line had dips, and the utility refused to accept it. A trackhoe was brought to the site in July to dig up the line and repair it. The outcry that followed led to the state Department of Transportation withdrawing its approval.
After this week's council vote, the work would have to comply with the tree rules, Johnson said. He counted 14 trees among the 17 that would be protected by those rules.