Two locals in final three for top job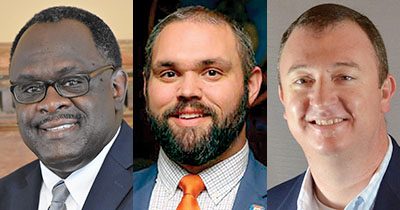 The finalists: Ray Funnye, left, David Garner and Brian Tucker.
The director of Abbeville County and two Georgetown County department heads are the finalists for county administrator.
Ray Funnye, the county director of Public Works, and Brian Tucker, the Economic Development director, were the only two county employees among the 37 candidates. They emerged as finalists after interviews on Wednesday.
David Garner, the director of Abbeville County since July 2017, was the third finalist. He was also town administrator in Calhoun Falls for nine months in 2016 and 2017.
Garner spent four years as a regional coordinator with the S.C. Emergency Management Division. He has a bachelor's degree in emergency management from Jacksonville State University in Alabama.
He earned a master's degree in public administration from Clemson University.
Funnye has been Public Services director for 17 years. He was director of Public Works for six years before that. He started working for the county as a plans examiner in 1992.
He has an undergraduate degree in engineering technology from Savannah State University and a master's degree in management from Webster University.
Tucker became Economic Development director in 2014 after a year and a half as the CEO of the Chamber of Commerce. He came to the county from North Augusta, where he had a career in banking.
Tucker has a degree in finance from Clemson.
The public can meet the finalists Wednesday from 5:30 to 7 p.m. at the Howard Center in Georgetown.
As County Council prepared to interview five candidates for county administrator this week, Funnye was named the top choice of the council chairman.
"Ray Funnye stands out as the most qualified to fit the needs of Georgetown County as administrator," Chairman John Thomas wrote in an email last month.
Thomas listened this week as Marvin Neal, president of the local chapter of the NAACP, read the email during the public comment period at a council meeting. He filed a Freedom of Information Act request for all emails between council members starting Jan. 1.
Thomas listed Kevin Yokim, finance director for Florence County; Thomas Brooks, administrator for the town of Saluda; and Tucker as his other choices in the Sept. 9 email.
Neal said he didn't dispute Funnye's qualifications, but said the fact that Thomas named him as a top choice before the process was complete showed "a lack of integrity."
Thomas said afterward that he sent the email to spur council members to name their top choices among 35 applicants. Two more applications came in after the email was sent.
None of the other council members replied, he said.
Thomas said he was told the email was exempt from disclosure during the administrator search and was released to Neal by mistake.
"I don't see anything wrong with it," he said. The council members were supposed to make a choice, and he did.