Victory in city special elections buoys county GOP for fall campaign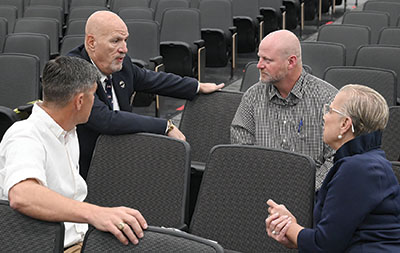 Jerry Rovner, 7th District GOP chairman, talks strategy with Jimmy Morris, left, Jonathan Angner and Carol Jayroe.
Jonathan Angner said his heart sank when he saw the line out the door at the polling place. It was a Democratic stronghold.
It was only when he went inside the Howard Center that Angner discovered the line was for COVID-19 vaccinations rather than voting.
Angner, a plumbing and electrical contractor, won a special election last week to fill a vacant seat on Georgetown City Council. He ran as a Republican in a city where Democrat Joe Biden won 62 percent of the vote in last year's presidential election. Angner won 60 percent of the vote.
The county GOP hopes to build on Angner's victory to win the city's mayor's race and two council seats in November. It is following a formula that the state GOP chairman, Drew McKissick, said led the party to success in the 2020 elections.
"We got it right here in South Carolina," McKissick told the county party convention over the weekend. The party expanded its support for President Donald Trump, it turned back a challenge to Sen. Lindsay Graham and it increased its majority in the state legislature to the largest since the Civil War, he said.
The 2016 election was the first time the Republicans recorded more straight-ticket votes than the Democrats, McKissick said. That 6 point margin grew to 17 points last year.
That was the result of reaching out to more voters, both through paid staff and volunteers.
"That's what turns people out. That's what wins elections," McKissick said. "Excitement and enthusiasm is the gasoline you pour on top of a campaign."
Tom Swatzel, a former county GOP chairman who is now a political consultant, added one more element.
"Jonathan was an incredibly hardworking candidate," he said.
Even though the turnout in the city's special election was only about 25 percent, Swatzel said it was a significant win.
Angner said he had planned to run for the City Council in November 2021. When Council Member Rudolph Bradley died last November, Angner asked around for advice and was directed to Swatzel.
"In two or three weeks, we had a road map," Angner said. "What Tom did for me was incredible."
He said he knew it was a long-shot for a Republican to get elected, but the more doors he knocked on, the better he felt about his chances.
Carol Jayroe, a two-term City Council member, has filed to run for mayor against the incumbent Democrat, Brendon Barber.
"We've never had a Republican mayor in the city of Georgetown," she said. "It's going to take a village."
She said that with Angner's victory "we've poked the bear."
The county party sent mailings, made phone calls and provided poll watchers for Angner. They expect to do the same in November for Angner, Jayroe and Jimmy Morris, a council candidate.