WHS grad returns to help students find career paths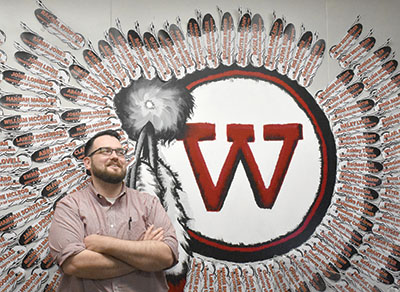 Feathers in the WHS guidance office where Vince Guarino works represent college offers to seniors.
A Waccamaw High School graduate has returned to school to help future graduates navigate their career or college path.
Vince Guarino, a 2008 graduate, was hired as the school's college and career readiness coach in November.
"I'm having a lot of fun," Guarino said. "It's been interesting coming back to the school I graduated from. Some of the teachers I had are still here, which is fun."
The district added college and career readiness coaches to the guidance staffs at its four high schools using funds from the Elementary and Secondary School Emergency Relief Fund (ESSER), which was part of the two CARES Acts passed by Congress last year. That money runs out in 2024.
Guarino is not sure what will happen then.
One of Guarino's responsibilities is to meet with students about their IGP (individual graduation plan).
"That's where we talk about a lot of things, but especially when they become juniors and seniors we talk about SAT, ACT, scholarship opportunities, all the classes they can take for the next year," Guarino said. "We talk about what they want to do after graduation, whether they're more focused on a career. If they're focused on going to a school, whether it's a two-year school, or a trade school of a four-year college."
He also takes small groups of students on field trips to colleges and universities. On Monday he toured the Advanced Manufacturing Center at Horry-Georgetown Technical College with about a dozen students.
"I'm trying to get students out and help them think about what they want to do after they finish Waccamaw," Guarino said.
This week is Career and College Week at Waccamaw so Guarino also hosted a college panel night on Tuesday, for students and parents to get more information on the application process, and a career and college expo on Wednesday, for students to explore options for after they graduate.
Students will also have the opportunity to take the Armed Services Vocational Aptitude Battery, which helps them decide if the military is an option for them, and tour Voorhees College.
Guarino graduated from the University of South Carolina in 2012, but only after transferring in before his sophomore year.
"I didn't have a great freshman year experience when I went to college, so I kind of understand how it can be a rather stressful time, especially for our juniors who are trying to figure out what they want to do after graduation," Guarino said. "And the seniors are really close to entering the real world, or going to college or whatever they choose to do. So I do remember it being a somewhat stressful, transitional time in my life. Hopefully I can ease that burden for our students."
Guarino's degree from USC is in economics.
"I'm not sure I had a plan as much as I really enjoyed economics and I really enjoyed the classes and my professors," he said.
Guarino worked for USC as a student, and was hired by the office of undergraduate admissions when he graduated.
Among his duties were helping students with the admissions and scholarship processes, and orientation; overseeing open houses for admitted and potential students; and helping international students with the immigration process. He even got to travel to Europe to recruit new students and accompany international students on field trips around the state.
He said his work at USC prepared him for the job at Waccamaw.
"This position is somewhat similar to the positions I had at USC," Guarino added. "At USC, you're admitting students, but you're also helping them get acclimated to what life is like in a new setting."
Guarino believes it's important for a high school students to visit colleges they are considering before enrolling.
"Make sure it's a good feel and a good fit," he said. "You have to find a school where you can picture yourself being a student there and spending four years of your life there."