Virtual gives way to reality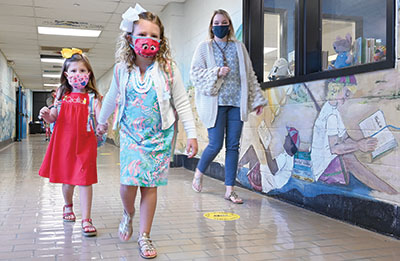 Masks have been required in schools since students returned in September.
It took nearly two weeks, but Georgetown County students and teachers were finally reunited inside classrooms on Monday.
Superintendent Keith Price said principals from across the district told him the first days went really well.
"I think everyone is happy to be at this point," Price said. "Everyone understands that being able to come back in person really is a privilege right now. It's something that we shouldn't take for granted and our students have just been wonderful. Our teachers have embraced it and it's been a great week so far and I hope it continues."
William Coleman, a second-grader at Waccamaw Elementary School, was so excited he said his head was going to explode.
The district moved into its hybrid phase this week, which has students separated into two groups and inside classrooms two days a week and learning virtually two days a week.
It was an unusual return to classes because parents and guardians were not allowed inside school buildings.
Waccamaw Elementary teachers and Jim Edwards, the school's resource officer, were stationed outside to escort the children to their classrooms. Some parents parked their cars and accompanied their children to the door, or stopped to take the traditional first day photo in front of the "Welcome Back Dolphins" sign.
Technology issues during remote learning was an ongoing theme.
Jamari Knox, a second-grader, said his computer screen froze so much that it made virtual learning not fun. He said it felt good to be back in a classroom.
Jamari's classmate, Anesa Pender, agreed.
"It always froze up and everybody always got frozen," she said.
Waccamaw Elementary principal Ashley Cameron said the technology issues were frustrating, but said everybody was awesome about it.
"Parents were very patient when they called, nobody was flustered or upset," she said. "That was a big piece, the fact that the teachers and the parents were as calm as could be and just kind of went with the flow."
Tiffany Hasenflu said virtual learning was difficult for her son, William, who is a second-grader.
"With everything going off and on, sometimes they would get kicked out of the classroom and couldn't get back in," she said.
Sarah Rodenbeck, a second-grade teacher, missed having her students with her.
"Not seeing the faces and being in a room with them [was] the hardest part for me, by far," she said.
Rodenbeck is concerned that having students in class just two days a week is not enough.
"In second grade they need so much repetition," she said. "You're teaching a lot in two days."
The three days the students are not at the school they will still have assignments to complete, mostly online.
Rodenbeck is having her students write in journals during the days they're not in class so they're not on the computer the whole time.
District extends hybrid phase as virus numbers fall
It's the hybrid life for Georgetown County students, until at least Oct. 16.
Although the COVID-19 numbers from the state Department of Health and Environmental Control continue to decrease in the county, Superintendent Keith Price announced Tuesday that the district will stay in its hybrid phase for weeks five (Oct. 5-9) and six (Oct. 12-16).
The county's incident rate, which is based on 100,000 people, is at 87.7. It needs to be 50. Last week it was 124.4.
The county's percent positive rate, which needs to be 10 percent or less, is at 11. Last week, it was 17.4.
"We're very, very close," Price said. "We're moving the right direction so I feel very good about where we're going right now."
Once the county hits the magic numbers, schools can reopen to students five days a week.