Volunteers build oyster reefs to rebuild stocks and curb erosion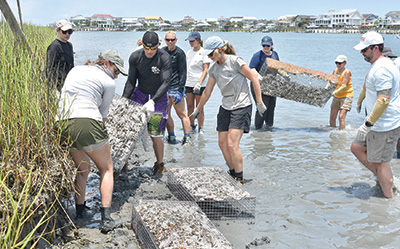 Wire cages hold the oyster shells and expose more surfaces for larvae to attach to.
Building an oyster reef is hands-on work. That's what about a dozen volunteers found out in Murrells Inlet this week.
First, 208 bags and 26 wire cages full of oyster shells had to be unloaded from a South Carolina Department of Natural Resources truck and loaded onto a DNR boat at the public boat ramp.
Then, the boat was driven to an island across from Garden City Point where the volunteers unloaded the bags and cages and placed them along 107 feet of the shoreline.
Michael Hodges, oyster restoration biologist for DNR, said that spot was chosen because the amount of erosion was evident every time he drove by in a boat.
"There's just no natural substrate to prevent it from eroding any further," Hodges said.
It was the second reef building project at that spot in as many weeks, and more are planned.
Rachel Hawes, land, water and wildlife project manager for the Coastal Conservation League, said there are pros and cons to both the cages and the bags, which are so tightly packed the oysters don't attach to the shells in the middle.
"The bags are easy to make – you just stick shell in a bag. They're easier to transport, they're lighter and they're better for volunteer-based activity. But we waste a lot of that shell in the void in the middle," she said. The cages "are better, but just more clumsier to use, slower to put down and we don't get as much square footage per build with volunteers."
Two types of cages were used for the build: a flat one and a triangular one.
Hodges came up with the idea for the shape and style of the cages and is testing both to see which works best.
"There's a lot of different styles, materials and shapes that people use throughout the whole Atlantic coast," Hawes said.
The cages DNR uses also contain coconut fiber, which traps sediment.
The whole event was part of DNR's SCORE (South Carolina Oyster Recycling Enhancement) program.
Oysters in the larvae stage are free-swimming and search for a solid surface to attach to. Adult oysters and the shells of dead oysters emit chemicals that attract the larvae, which need to be close to other oysters to reproduce. According to DNR, adult oysters filter up to 2.5 gallons of water per hour and build reefs that become habitats for other creatures. Oyster reefs are also natural breakwaters that can help control erosion.
DNR started collecting oyster shells to recycle in 2000 and building reefs in 2001. Since then, more than two tons of shells have been deposited in more than 100 sites from Murrells Inlet to Hilton Head.
Projects slowed down a little during the COVID-19 pandemic, but are getting back to normal.
Building reefs using bags and cages is one method DNR uses to return oyster shells to a natural habitat. If the shells are being returned to a place where oysters are harvested, they are just dropped into the water.
DNR wants to build more reefs, but such a small percentage of oyster shells get recycled, the agency has to buy shells and transport them to the coastline to use. The funding comes from the sale of fishing licenses.
There are two oyster shell recycling spots on the Waccamaw Neck – Clambake Landing in Murrells Inlet and Murrells Inlet-Garden City Fire Department headquarters on Business 17. There is also a recycling bin at the fishing pier between the Waccamaw bridges in Georgetown.
After oyster shells are donated, they need to be dried for at least six months to remove any invasive species or harmful diseases before they are returned to the water.
For more information go to saltwaterfishing.sc.gov.