Voters get an early start in balloting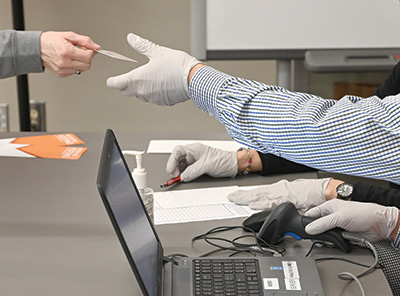 Early voting stems from efforts by the state to reduce crowding at the polls during the pandemic.
The general election may not be until Nov. 8, but voting starts on Monday.
Registered voters can cast a ballot at three voting centers – including the Litchfield Exchange – or the elections office in Georgetown.
"We need to make sure that people have no excuse for not voting," James Sanderson, chairman of the county's Board of Voter Registration and Election, told board members last week. "I think voting is something that people should take seriously."
On the ballot are three County Council and three school board seats, governor, state superintendent of education, secretary of state, U.S. senator and U.S. 7th District representative.
Since the 2020 election, 3,638 Georgetown County residents have registered to vote – 1,893 females and 1,745 males.
There are now 48,240 registered voters in the county and 3.38 million in the state.
More than half of the new voters – 2,341 – live on the Waccamaw Neck.
Murrells Inlet 1 added the most voters – 425 – bringing its total to 3,649 and making it the second largest precinct in the county.
Pawleys Island 2 is the largest precinct in the county with 3,777 voters, including 406 new ones.
Pawleys Island 5 added 382 voters, bringing it to 3,293; Pawleys Island 1 added 363 voters, bringing it to 3,447; Pawleys Island 3 added 312 voters, bringing it to 2,781; and Pawleys Island 4 added 234 voters, bringing it to 2,869.
The establishment of early voting is part of a law signed by Gov. Henry McMaster in May.
The new law also bans in-person absentee voting, which was hugely popular in the 2020 general election when restrictions on absentee balloting were lifted in an emergency order resulting from the coronavirus pandemic.
A third of registered voters in Georgetown County cast an absentee ballot before Election Day in 2020.
Nearly 3,000 county residents took advantage of early voting for the state primaries in June. More than half of early voters cast a ballot at the Waccamaw Library.
The election board voted to move the center to the Litchfield Exchange for the general election because members were concerned that the large amount of voters would disrupt activities at the library.
Aphra McCrea, the county's director of Voter Registration and Elections, placed signs at the exchange on Oct. 12 to notify people that it was going to be the site of an early voting center.
Early voting options also include the elections office in Georgetown and the recreation centers in Andrews and Choppee. Registered voters do not have to go to the election center closest to where they live. They can vote early at any of the four centers.
Early voting is available from 8:30 a.m. to 6 p.m. dauily through Nov. 5, except for Oct. 30, which is a Sunday.
Absentee ballots are also available, but the state reinstated the special provisions required for absentee voting. Those provisions were dropped during the pandemic.
To vote absentee, registered voters must request an application for a ballot from the election office by phone, email or mail. The application then must be dropped off or mailed back to the election office.
An absentee ballot will then be mailed to the voter, who must have a witness sign the envelope confirming that the voter signed the oath.
The ballot can then be mailed back to the elections office, or dropped off by Oct. 28.
As of Wednesday, 1,062 applications have been requested; 737 ballots had been mailed out; and 142 ballots have been returned, according to McCrea.
Once a ballot has been mailed, that voter cannot cast a regular ballot at an early voting center, or at a precinct on election day.
Voters who have received an absentee ballot can choose a provisional ballot, which will then be checked by election officials to make sure that person did not also return a absentee ballot.
Voters can check their registration, find their polling place and see a sample ballot online at scvotes.gov.