Waccamaw Elementary administrators named best in the district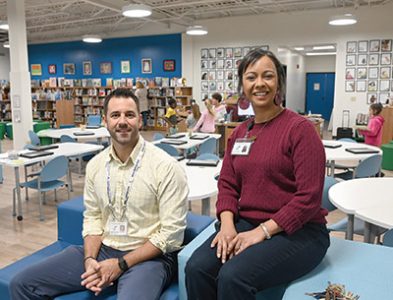 Robert DelBagno and Ashley Cameron, the best in the district.
The top administrators in the Georgetown County School District both work at Waccamaw Elementary School.
Ashley Cameron is the principal of the year and Robert DelBagno is the assistant principal of the year.
"It's exciting," Cameron said. "I was surprised, but really honored and thrilled that my staff nominated me and that my colleagues and other stakeholders feel so highly about the job that I'm doing. It was really nice."
Cameron has worked for the school district for 16 years. She taught at Waccamaw Middle School and was the assistant principal at Georgetown Middle School for four years before taking the helm at the elementary school in 2017.
Her favorite thing about being a principal is being able to lead the learning.
"I get to go into the classrooms and I get to watch the kids learn. Our students want to learn, and they're eager and very engaged in the classroom," Cameron said. "I also get the opportunity to lead by example and provide teachers with learning. I think it's important that not only are our students constantly learning, but our teachers are learning and growing."
DelBagno taught at Andrews High School, Waccamaw Elementary, Waccamaw Intermediate School and Waccamaw Middle School and spent one year as assistant principal at Carvers Bay High School before returning to the elementary school in 2019. He also coached cross country and track at Waccamaw High School before becoming an administrator.
"I feel just to be nominated and announced as one of the three finalists alongside Kevin Branham at Andrews High School and Denetria Middleton from the intermediate school, [who are] colleagues and friends, it is just an honor to be mentioned," DelBagno said.
After working at all levels in the district, DelBagno said he has found a home with the youngest students.
"My day-to-day interactions with them are fun. We have to make learning fun which makes all our jobs even more fun," DelBagno said. "We get to see a ton of growth with a lot of our students not having any prior education or very little education. We get to witness substantial growth academically and maturity wise."
Cameron also loves watching the growth of her students.
"We get to watch our 4-year-old babies turn into third-grade students. That's really neat to see," Cameron said. "They come in and don't know their letters and their letter sounds. And then over the next few years we watch them learn how to read. Then they get to third grade and they're reading to learn."
DelBagno praised Cameron for her work.
"I really love everything about my job, I really do," he said. "Mrs. Cameron has done a great job with the staff at Waccamaw Elementary School with people that love our students and that are very knowledgeable."
Cameron said the fact that she and DelBagno were both honored made her award "extra special."
"I think part of my success is seeing my people do great things," she added.
The other finalists for principal of the year were Mack Burgess of McDonald Elementary School and LaTanya Goodson of Rosemary Middle School.
This is the first year the district has honored a principal and an assistant principal. One award used to be given to the administrator of the year. Cameron was a finalist for that award in 2019.