Hall of famers in a class of their own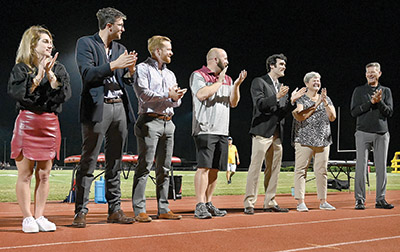 Member of the first class take a bow at halftime during last week's football game.
Waccamaw High School recently welcomed back some old friends who had a lot of athletic success when they were at the school.
The first class of the WHS Athletic Hall of Fame was honored on Friday. Since it opened its doors in 1990, athletes have won more than 20 team championships and more than 70 individual state championships.
"It's a great representation across all of the sports that have had success at Waccamaw," principal Adam George said. "I'm very happy with the class."
The school's most honored athlete is Deliah Arrington, who won seven state titles – 100-meter hurdles in 1996, 1997, 1998 and 1999; long jump in 1997 and 1999; the triple jump in 1999 – despite the fact that Waccamaw did not have a track.
"For the running events, we trained in the grass around the football field, and for the triple and long jump, I jumped from the edge of the parking lot into a pile of beach sand on the grass," Arrington said. "Even so, our team was amazing and we consistently made it to the state meets.
Arrington was also a standout on the boy's soccer team since at the time Waccamaw didn't have a girl's team.
"I was only one of two women that had played for the team at that point (Jessica Principe was also on the team), but all of the coaches and players were welcoming and supportive," said Arrington, who graduated in 1999. "That kind of atmosphere allowed me to excel. I feel privileged to be recognized for my hard work and dedication to the game."
Waccamaw has had the most success in tennis, with 10 team state titles and 17 individual state titles. That is reflected in four players and two coaches being in the first Hall of Fame class.
Harrison Richmond won an individual state tennis title in 2012 and was named an All-American in 2011 and 2012.
"I'm very excited. It's nice to be recognized for the work and time I put in in high school and middle school," Richmond said. "It feels like such a long time ago that it came out of nowhere. It was a pleasant surprise."
Allison Stanford Ferdon won individual state tennis titles in 2005 and 2006 and was named to the All-State team 2005-2007. The tennis teams also won state titles in 2005 and 2006.
"I am really honored that I was nominated for this," Ferdon said. "I worked really hard and I'm happy to be here,"
Richmond, who graduated in 2012, and Ferdon, who graduated in 2008, said the tennis players have always been close.
"I trained with all of them," Richmond said. "We pretty much were friends growing up because we were in similar positions so we had to play with each other to try to get better. We spent a ton of time together."
"We might not see each other for a while but when we do it's right back to old times," Ferdon added. "We really have a great time together and always talk about the fun stories."
Wesley Moran won individual state tennis titles and was named to the All-State team in 2007 and 2008, and was named an All-American in 2008. The tennis team also won titles in 2007 and 2008.
Moran, who graduated in 2008, was honored to be part of the first class, but wished the teams could have been inducted, too.
"We had some of the most talented tennis players in the country," Moran said. "Without the rest of my teammates pushing me, I would not have been anywhere close to the tennis player I became and certainly would not have been in a position to be considered for the Hall of Fame."
Tolley Rice won four straight individual state tennis titles and was named to the All-State team from 2009 to 2012. The tennis teams also won state titles in 2008 and 2010.
Rice, who graduated in 2013, said it was an honor to be a member of the first Hall of Fame class.
She was unable to attend the ceremony because she is in her final year at Tennessee College of Veterinary Medicine and was on a surgery rotation all weekend.
James Brown won state titles with the girls tennis team in 2004, 2005 and 2006, and the boys tennis team in 2007, 2008 and 2010. Brown's boys teams were also runners-up for a State title eight times.
"It's such a great honor, but there was so many talented people that I was able to be around, they made coaches look good," Brown said. "I just happened to be at the right place at the right time. My whole thing was to hold them accountable, make them work hard and form a team."
Brown also coached football and basketball at Waccamaw.
"I love this place, I miss it. It's a great place," said Brown, who now teaches and coaches at the Coastal Leadership Academy in Socastee.
Scott Streiffert, who won a state championship with Waccamaw's softball team, was one of the emcees of the ceremony. He reminded people that when Brown was the football coach, the Warriors beat Aynor to break a losing streak that stretched over several seasons.
"It was one of the only times that I've ever seen that everyone swarmed the field at the end of the game when we won and tore down the goalpost," Streiffert said. "It's not very often you see that at a high school football game. … [Brown] actually had the goalpost cut up into pieces and presented the pieces of the goalpost that we retrieved to the players."
Joan Cribb won a state title with the girls tennis team in 2010 and coached cross country, volleyball, soccer, basketball, track and cheerleading.
"It's a great honor to me," said Cribb, who is retired. "It makes you realize that the hard work and the love of athletics and the kids makes it all worth while."
"If you ever worked or played for Coach Cribb I think you'll agree that she would always put you first," Streiffert said. "She had an uncanny knack for knowing when you needed a hug, or you needed to be chewed out."
Cribb was also athletic director at the school for 16 years during a time when the number of sports teams grew from 26 to 36 and multiple individuals and teams won region, Lower State and State titles.
Dennis Lee was Waccamaw's first football coach when games were played behind Waccamaw Elementary School and remains the school's winningest football coach with 42 wins. Lee, who teaches at Georgetown High School, also coached the baseball team, and as athletic director helped build the school's other sports programs.
"This is a great honor," Lee said. "It's nothing I ever thought would happen."
Streiffert was an assistant football coach, and got a chance to be head coach for 2:24 after Lee was ejected from a game.
"Coach Lee I wanted to publicly thank you for my opportunity to be the only undefeated head football coach in the history of Waccamaw High School," Streiffert said.
Lee recruited other coaches, teachers, parents, players and community members to help build Waccamaw's football, baseball and softball fields.
"You think about all the hard work in 1990 that we had to do. We didn't have anything. When they built this school, they didn't put any facilities in, just the gym," Lee said. "People don't understand how hard that was. But we had a lot of good people. A lot people in the community that came out here and helped."
Brett Green won state titles in shot put in 1998 and 1999, and discus in 1999.
"It's nice to be recognized for the success we had," Green said. "It was a fun couple years and this brings back a lot of great memories with friends and teammates at Waccamaw."
Green lives in Charlotte with his family and does not get back to the area very often. He was amazed at the transformation the school has undergone since he graduated in 1999, including additions like the auxiliary gym and upgrades to the sports facilities.
Wesley Welchel set the same state record twice while pitching for the Waccamaw baseball team. He struck out 21 batters in a game against Carvers Bay on April 2, 2004, and 21 batters against Mullins on March 24, 2006.
"A childhood growing up in Pawleys Island and as a student at Waccamaw is so special, and one I took for granted at the time," said Welchel, who graduated in 2006. "Looking back now, I have such fond memories of the area and loved representing the school."
Nominations are now open for the next class. Forms are on the school website. The deadline is Jan. 13.