Waccamaw High team talks itself into a ninth state championship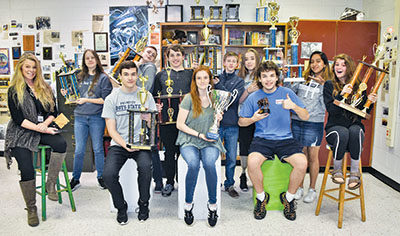 The WHS speech team with the hardware they have brought home from competitions this year.
The 11 members of the Waccamaw High School competitive speech team are very good at what they do. There's very little debate about that, even though debating is something they do best.
The Windtalkers won the Class 3A state championship earlier this month. It was the ninth Class 2A or 3A state title for the team in its 10 years of existence.
Derek Rollins won for humorous interpretation, Clark Dotson won for prose interpretation, Grace Cohoon won for novice interpretation and the top novice award in the drama category.
"This has definitely been a very successful year," said Rollins, who is the team's captain. "We've had a lot of new people step up, like Gracie, and take state champion. … This team is definitely one of the better teams that we've had."
Dotson joined the team last year after moving south from Connecticut where his high school did not have a speech and debate team. His parents encouraged him to give it a try at his new school.
"Moving down here I was wary at first to try it," Dotson said. "I do enjoy it but, I wasn't exactly good at it [at first]. … I was able to learn that I do enjoy performing and doing pieces."
The Warriors finished the season ranked fourth in the state across all classifications.
Ree Lawson, the team's coach, said the fact that her team does so well with only 11 members is amazing. Some teams have 70.
She is also amazed that there aren't more Waccamaw students involved. Several college recruiters have told her that speech and debate experience is in the top five of things they look for in a potential student.
"The very top kids, the ones that want those big scholarships to big schools, they are hurting themselves by not having speech and debate on their résumé," Lawson said. "I have trouble getting that message out."
Three Windtalkers qualified to compete against students from around the country at the National Speech and Debate Association's national championship in Dallas in June. Rollins will compete in humorous interpretation, Megan Stackhouse will compete in program oral interpretation, and
Riley Sollars will compete in congressional debate.
"We're pretty excited about this," Lawson said. "It's getting kind of cool for the little, tiny team from the middle of nowhere."
It will be the second national competition for Rollins. He also qualified for the National Individual Event Tournament of Champions in May in Omaha, Nebraska.
Lawson said Rollins, a senior, has been preparing to compete for a national title since he started high school. He didn't win any competitions until the Optimist Club at the end of his freshmen year.
"But he never complained and he never gave up," Lawson said. "He improved every single year."
"Preparing for a national competition is definitely just a lot of practice and trying new stuff," Rollins said. Rollins recently found a website that brings together former national champions with aspiring national champions and worked with a consultant to polish his work.
"I'm pretty sure we'll go back and do a little more consulting before nationals as well," Lawson said.
Sollars has already been communicating with the other competitors from South Carolina. Unlike some of the other divisions, congressional debate requires participants to work together.
"To get good debate you have to understand what everyone else is trying to do and what everyone else is saying," Sollars said. "Working together with other teams sounds counter-intuitive at first, but it really helps to build up your game."
Stackhouse said the biggest challenge at a national competition is to not beat yourself up about a performance or let one judge's opinion bring you down.
"It's art, basically what we're doing," she said. "Everyone has a different opinion."
Stackhouse went to a speech and debate camp last summer that helped her up her game. She said the most important thing she learned was that "if you don't practice you're not going to live up to your own personal standard."
Stackhouse, Rollins, Sollars and Jake Birchmeier also won local Sons of American Revolution oratory contests and will compete against each other at the state level on March 30 for a chance to win a national title, and Lawson was named the state NSDA coach of the year.
Lawson expects the trip to the national competition in Dallas will cost around $5,000. She and the team members are raising money to offset expenses.
For information on how you can help email mlawson@gcsd.k12.sc.us.