Waccamaw Intermediate finds new principal just down the road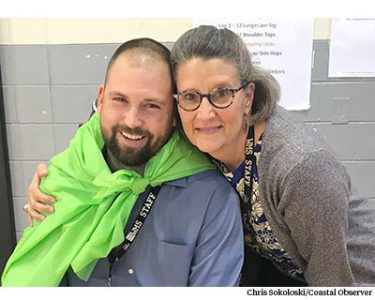 Travis Klatka with the Waccamaw Middle principal Jamie Curry at his going-away party.
Travis Klatka is changing jobs, but it won't have much of an effect on his commute.
After five years as the assistant principal at Waccamaw Middle School, Klatka has been promoted to interim principal at Waccamaw Intermediate School.
"I'm excited to get in there, get to know my staff, get to know those students, and represent them the best way that I can and work as hard as I can for them," Klatka said.
Klatka takes over for Tim Carnahan, who is leaving the district to become principal at Lexington Elementary School.
Carnahan helped plan, design and hire the staff for Waccamaw Intermediate, and has ben the only principal since it opened in 2008. The school was named a National Blue Ribbon School in 2016 and Palmetto's Finest in 2019.
"Dr. Carnahan has done an amazing job at the school," Klatka said. "He left me with a great opportunity to be successful. He's got an amazing staff there, great students [and] community support. It is big shoes to fill, but I'm excited to have that opportunity. I'm going to do everything I can to not only continue that success, but take it to the next level."
The district will have Klatka shadow Carnahan for a few days. Klatka expects to officially take over some time next week.
"The biggest challenge is getting in there right away. Mid-year is difficult," Klatka said. "Develop relationships with the teachers [and] with the students to hear what's going on, what's been successful there, and what are some things they'd like to see change over time."
Klatka was hired by the school district in 2009 to teach at Georgetown Middle School. He taught physical education and math, coached B-team football, and was an assistant coach on the Georgetown High School varsity and junior varsity football teams.
He joined the Waccamaw Middle staff as a curriculum coach in 2013 and was promoted to assistant principal a year later.
Klatka called Waccamaw Middle Principal Jamie Curry an "awesome mentor."
"She's an amazing leader," Klatka said. "Working with her, I kind of realized this is the direction I want to go."
Doug Jenkins, executive director of human resources for the school district, said the district always puts an interim tag on a principal who takes over a school during the school year.
"We just want to make sure it is the best fit," Jenkins said. "Mr. Klatka does have several years of experience, but he is coming behind a long-standing principal. … We want to make sure we set him up for success and that the school is successful."
If all goes well, Jenkins added, Klatka's interim tag will be removed at the end of the school year.
Georgetown native Ginny Skinner Haynes has been hired as Klatka's replacement at Waccamaw Middle. She is the assistant principal for instruction at Dutch Fork High School.