Waccamaw Intermediate's founding principal takes new job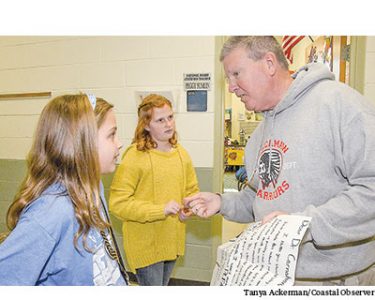 Principal Tim Carnahan explains his decision to Lauren Ratz, left, and Jessie Hammel, who wrote letters to him asking him to stay.
When Principal Tim Carnahan met with the teachers of Waccamaw Intermediate School before it opened in 2008, he gave them some advice: love the kids like they're your own.
Twelve years later Carnahan is leaving the school to become principal at Lexington Elementary near Columbia.
"It's hard to walk away, It's been a hard decision for us," Carnahan said. "We have a peace about [it], but at the same time it's sad."
Although the principal that Carnahan will replace at Lexington Elementary retired last week, the exact date of Carnahan's departure from Waccamaw Intermediate is not set.
"It gives me a longer time to say goodbye to everybody," Carnahan said.
Carnahan has spent his entire 28-year career with the Georgetown County School District. He was a teacher and assistant principal at McDonald Elementary School, assistant principal at Sampit Elementary School, and principal at Pleasant Hill Elementary School before moving to the district office, where he spent a year helping to plan, design and hire the staff for Waccamaw Intermediate. He was then named principal.
"The great thing about this school is we were able to build the culture and design it from the ground up," Carnahan said. "We really nurtured our kids here. We built a culture of caring, not just for kids but for adults and our parents and the community. That's what's made us successful."
In 2017, Carnahan was the named the state's top elementary principal.
"He's done a really good job," Superintendent Randy Dozier said. "He's a tough person to lose."
Waccamaw Intermediate was named a National Blue Ribbon School in 2016 and Palmetto's Finest in 2019.
Carnahan doesn't like to take credit for the success the school has had. He calls it a team effort that includes staff, parents, community, district staff and the school board.
"We've worked together to make this school successful," Carnahan said. "I have never in my life seen such dedicated people to a school and an organization. If they still do what they have done, this school will continue and the culture will continue."
"He's the reason that I love teaching," said Jennifer Gallup, who has been at Waccamaw Intermediate since it opened. "We all just wanted to make him proud. … He motivates all of us and his legacy is going motivate all of us to continue to do a really good job."
Gallup said Carnahan taught the staff to always think how they would want their own children treated.
"That's how he is with them, whether they're in the most trouble they've ever been in in their life, or whether they've just won something," Gallup said. "He has a way of making them feel like everything is going to be OK, you're great and you're important."
Peggy Sumlin, another one of the school's original teachers, said Carnahan introduced 3-D printers to the school and supported her when she suggested planting a garden on the campus.
"It's all about the children; doing something new and exciting," Sumlin said. "He's the heart of our school and we love him. And the children love him."
Sarah Colegrove was teaching in Oconee County when she came to a Georgetown County job fair. Carnahan interviewed her and hired her as one of the first Waccamaw Intermediate teachers. She called him supportive and compassionate.
"He wants not only the students in this school to do well, he wants all of the faculty to do well," Colegrove said. "He wants us to feel comfortable. He wants us to remember the reason that we're in this profession."
Carnahan takes an interest in teachers' personal lives because he knows if they're happy, the students will be happy, Colegrove added.
Carnahan said Dozier and his staff made him the educator that he is.
"I'm very thankful for them and what they've done," Carnahan added. "I'm a better person because of the leadership and the training that I've had, and the support."
In his new position Carnahan will once again be working with young children. He joked that he'll be tying a lot of shoes again.
"I have always loved teaching reading," Carnahan said. "So now I'm going to be going back and using a lot of the strategies and knowledge that I had early on with reading to help kids who don't know how to read to read. I'm looking forward to that challenge again."
Dozier has not decided whether he'll install an interim principal at Waccamaw Intermediate, advertise the job or promote an assistant principal from within the district.
"We have some very capable administrators who are waiting, that are ready to step up," said Dozier, who is due to retire at the end of June. "It always gives you an opportunity to move some people around and take care of some things."
"It would have been our dream that we could both finish out this year," Carnahan said. "If he can work it out and he has somebody, than that opens it up for me to go."
"I'm sure whoever we have is going to be wonderful and a great replacement," Gallup said. "They're going to love being here so they won't be able to help but be wonderful."
Carnahan said he will miss all the staff and teachers.
"My teachers are very grounded in what they do here. They're going to continue to flow, my classes are going to be fine," he said. "I think it's harder on me. They think it's on them, but they have each other."
Carnahan said the decision to leave Waccamaw Intermediate was a difficult one, but "God kept opening doors" for him and his family, including a job for his wife, Michelle, as a special education teacher in the Lexington School District.
"Everything that I tried to say that 'I can't,' a door opened and I could," he added. "We have to trust [God] at this time. We're trusting Him to lead us."