Waccamaw Library will reopen doors June 1 for patrons with masks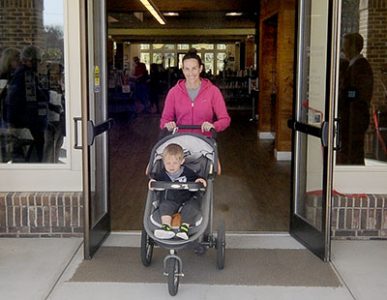 Doors to the Waccamaw Library will open again to the public on June 1.
The Waccamaw Library will begin allowing patrons inside the building on June 1 for short periods as long as they're a wearing mask.
"We've been trying to figure out how to open the facilities. We haven't done so casually," Dwight McInvaill, the Georgetown County library director, told the library board Thursday. "We don't want people to be scared. We're doing more than the science tells us that we are needful of doing. We want them to be comfortable."
Library branches have been closed to the public since March 18 due to safety concerns related to the COVID-19 pandemic, although staff have continued to work.
Beginning June 1, the library will be open to the public Mondays through Fridays from 10 a.m. to 6 p.m. Weekend hours have been discontinued for now.
A limited number of patrons who are wearing masks will be allowed in the building at a time, and will given a short window of time to browse and check out materials. Computers and video gaming systems will be off limits.
The library will keep a supply of disposable masks on hand for patrons who don't have their own, and all staff members will wear masks in public areas. The library will waive the mask requirement for children 2 and under, and people with breathing issues or special needs.
Patrons who don't wear a mask will be asked to use the library's curbside service, which started this week and has been an immediate hit at the Waccamaw branch. McInvaill said in the first few days 160 items have been delivered during 94 curbside visits.
The partial reopening is the first step to having libraries back to full operations on Aug. 10. The schedule is:
June 15: patrons will be allowed to use library computers again, although still for short periods of time.
Keyboards will have plastic covers that library staff will wash after each use. Keyboards and mouses may also be changed frequently.
June 29: library staff will allow patrons to spend longer periods of time inside the building.
July 13: the library will reopen its children's areas while restricting the amount of children inside the building at a time to allow for easier supervision. Library staff may host some children's programs outside to would allow for more participants.
July 27: library meeting rooms will reopen for use.
McInvaill said groups renting the auditorium may be allowed to not wear masks during the meeting. If that happens, the auditorium would have be quarantined for a few days after the meeting.
The current schedule and restrictions will be reviewed by the library board at its meeting on July 16.
Because the library is not expected to be completely reopened until August, the Friends of the Waccamaw Library's annual July book sale has been postponed until October.