Waccamaw Middle teacher is district's top rookie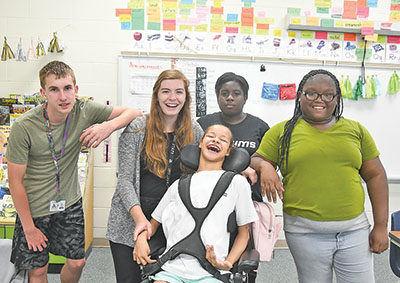 McRobbie with, from left, Justin Buckner, Shania Holcomb, Donna Herriott and Destiny Smalls.
Becca-Lyn McRobbie knew when she was in middle school in New Jersey that she wanted to be a teacher.
"When I was growing up I always pictured myself being a teacher," McRobbie said. "It was something that always caught my attention and I was always influenced by my family members. One of my cousins was always involved in education … and my boyfriend's mom is a sign language interpreter."
She is about to wrap up her first year of teaching special education at Waccamaw Middle School and was named the school district's Rookie Teacher of the Year on Wednesday.
"It was really a surprise [to be nominated]… I was kind of caught off guard," McRobbie said. "It means a lot. It shows that I was working hard and it was acknowledged by my principal and taken higher as well too."
McRobbie grew up in Union, N.J., where she volunteered with the Special Olympics club at her middle school.
"We would work with the self-contained life skills class," McRobbie said. "We would go to the beach, we would take different trips or just hang out in our free time. That was something that sparked my interest in special education."
She followed her family to Conway where she enrolled at Coastal Carolina University.
"Originally I was planning to stay in New Jersey but I toured Coastal's campus and fell in love," McRobbie said. "I wanted to be near my family."
Her interest in special education deepened at CCU.
"We did field experiences starting our very first semester," McRobbie said. "That's when I realized how individualized the education was and you really have to meet the children on their level. That was something that I enjoyed a lot."
Even before McRobbie graduated from CCU in 2017 she signed a contract with Georgetown County. She teaches life skills to sixth-, seventh- and eighth-graders.
"We do a functional curriculum," McRobbie said. "We focus on math, reading and writing and we do a little bit of science and social studies. We also do a lot of life skills lessons … like saving money if you wanted to buy [something]."
Another part of the class is getting the students acclimated to the community by taking them out to stores and restaurants.
"Once the children finish school they can focus on those life skills that are most important to them and living independently," McRobbie said.
McRobbie's first year of teaching was not as hard as she expected.
"It went by fast," McRobbie said. "There was a lot of things that were thrown my way, some things that I had to adapt to, but it was an awesome year. If it wasn't for the support of the school and my assistants I wouldn't have gotten this far."
McRobbie used to be the type of person who planned for everything.
"This school year has taught me to go with the flow and be a little bit more fluid," McRobbie said. "As things would come up at the beginning of the school year I would get a little freaked out if things weren't going as I planned. At this point I'm like, 'OK, it's all right. We'll just keep moving and we'll go along and figure out something else to do.'"
She still loves teaching.
"Honestly I'd say I love it more," McRobbie said. "Before the school year started it was the anticipation that would drive me crazy. I had no real idea of what to expect. That was scary to me. Now that I've gotten a year under my belt I'm feeling empowered and I feel ready to take on new things."
The district named 13 teachers as rookies of the year, including Jessica Smith from Waccamaw High School, before choosing five finalists.