Ideas for Hasty Point tract hinge on finding funds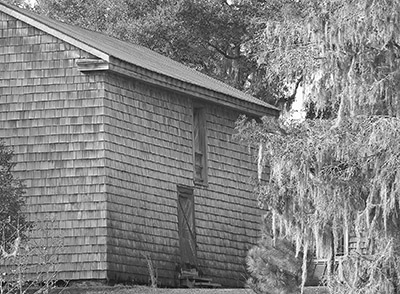 There are five historic buildings on the Hasty Point property.
Now that Hasty Point plantation has been added to the Waccamaw National Wildlife Refuge, plans are in the works to open it to the public.
The first step in the process was to ask the public what they wanted to see on the 772-acre property in Plantersville.
"Hasty Point is such a unique piece of property. It's got a lot of amenities that other refuge tracts do not have," refuge manager Craig Sasser said. "I just felt like this was a unique opportunity for me to really dig a little deeper, get more feedback and just try to find a new opportunity and a new challenge for the refuge."
Sasser's plans include a walking trail for people to explore the woods and go bird watching. He would also like to create history exhibits and an interpretive center, but that costs money, possibly hundreds of thousands of dollars, all of which he would have to find.
"It's not easy. It means grant writing, it means contracting with consultants," Sasser said. "The sky's the limit, but the sky is the limit if I have to try and figure out how to try to pay for it."
Anything done at Hasty Point has to promote the mission of the refuge or be compatible with it, Sasser added.
Sasser secured several grants to hire Mandala Research last year to meet one-on-one with residents and community groups to find out what they'd like to see at Hasty Point. Laura Mandala then came up with the idea of holding public meetings in the four corners of the county. The meetings were held this month and attracted about a dozen residents.
At the meeting in Pawleys Island, Marilyn Hemingway, CEO/president and founder of the Gullah Geechee Chamber of Commerce, said she would like to see living history exhibits done in a "tasteful and considerate manner. Perhaps people could be shown how rice was grown and harvested, Hemingway added.
Sasser planted and harvested Carolina gold rice on the property. He expects to expand the size of the fields, which are a habitat for ducks and migratory birds, next year.
Of the five structures on the property, one is a rice barn estimated to have been built in the 1840s.
The plantation was a stop on the Tour de Plantersville bicycle event in October. Gullah historian Zenobia Harper demonstrated how to harvest the rice to the cyclists.
County Council Member Bob Anderson agreed with Hemingway, and envisions having craftspeople demonstrating other skills that were used on working plantations like carpentry, tailoring and smithing.
"Plantations were nothing but a farm," Anderson said.
"I'm in complete agreement with what I've heard so far," Sasser said. "There's really unique historical aspects of this property so I'm fully invested with doing the best we can with the interpretive side, capturing history and the cultural aspects and the wildlife aspects."
Ray Funnye, Georgetown County's director of Public Services and founder of nonprofit education program The Village Group, said Hasty Point could become the center for ecotourism in the county.
At a public meeting in Choppee, Funnye said he'd also like to see the plantation spur economic development in the county.
Sasser is also exploring the possibility of boat tours from Hasty Point to Sandy Island. He has been meeting with island residents to make sure they are comfortable with the idea. He called the community "very private."
"We want them to present what they feel would be the best component of this with their community. It's really important that the community is in agreement on this," Sasser said. "I don't want to come in with an eco-tourism strategy that impacts them and changes their way of life."
The refuge already manages about 11,000 acres on the island, but not where people live.
Sasser asked Mandala to study Brookgreen Gardens, Hobcaw Barony and other similar places in the Gullah Geechee Cultural Heritage Corridor for ideas.
The goal is to open Hasty Point to the public by December of 2022, which is the 25th anniversary of the refuge.