Waccamaw refuge program builds stewardship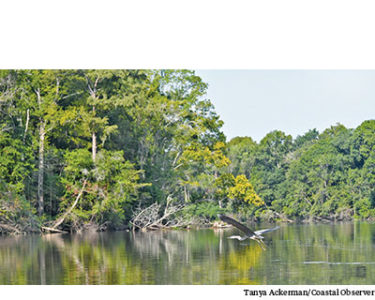 A heron crosses the Pee Dee River in the Waccamaw National Wildlife Refuge.
There is always something going on at the Waccamaw National Wildlife Refuge: building, cleaning, trapping, installing and restoring.
At the top of the trapping list are the feral hogs that decimate parts of the refuge's youth hunting areas.
"With the floods, it's pushed them up into a lot of the areas that we manage for other wildlife," said Craig Sasser, the refuge manager. "They just go in and blow the place up. It looks like a bombing range when they're done."
Sasser had help with his trapping efforts this summer from four teenagers he hired as part of the Youth Conservation Corps. The YCC was founded in 1971 to help youngsters between the ages of 15 and 18 develop an ethic of environmental stewardship and civic responsibility. Teens work 40 hours a week for eight to 10 weeks every summer.
Building the hog traps was the favorite summer project of Caleb Radcliffe, a rising senior at Carvers Bay High School.
"It took a while to get them to go into those traps," Radcliffe said.
This was Radcliffe's second summer with the corps. "I just like working outside," he said.
One of the hogs that was caught had only three legs. All of the hogs are donated to a man with a processing plant in Johnsonville.
Other projects for the four YCC teens included helping restore oyster beds, building a drift fence near the refuge's education center to trap small creatures and cleaning up Peachtree Landing in Socastee and a dirt road through the refuge in Carvers Bay.
Jeremy Owens, a rising junior at Georgetown High School, is interested in a career as a wildlife biologist. He enjoyed the aftermath of building the drift fence.
"You can go down there and see what animals are around," he said.
The least favorite project for Radcliffe, Owens and Ben Martin was picking up dirty diapers on Sandy Island.
"One day we had to do that for eight hours straight," said Martin, a rising junior at Georgetown High School.
Trash is a major problem on the island and the YCC teens spent a lot of time cleaning up cans and bottles, and even beach chairs.
Some of the trash found in the dunes near the beach on the south end is discarded by mainland residents who travel to the island to hang out and party. The beach is owned by the Nature Conservancy, which leases it to the refuge to manage for public use.
In other areas of the island, trash is from residents who had no other option for disposal for decades.
"Before the county provided waste services they just went out in the woods and left it," Sasser said.
Sasser posts pictures of the trash on social media in the hopes of educating people. He is working with the conservancy to organize a day when dozens of volunteers can go over to the island with equipment, trash bags, containers and possibly Dumpsters and do a thorough cleanup. He hopes it will also give the residents a chance to dispose of any large items they have that they want to get rid of.
Plans are also in the works to have the docks on the island upgraded so canoers and kayakers have a safe place to tie up their boats when visiting.
Another project on the island was building and installing bluebird boxes to keep the birds from nesting in the trees and taking up space needed by the red-cockaded woodpeckers, which are an endangered species.
"It keeps the bluebirds from competing with the [woodpeckers] for cavity trees," Sasser said. "The premise is, you can give them another option. We're going to see how well it works next year."
Sasser, a U.S. Fish and Wildlife Service biologist, was in on the planning of the Waccamaw National Wildlife Refuge, started working there when it opened in 1997, and was named the first manager in 2003.
Sasser is currently working on plans to acquire more land. The refuge has an "acquisition boundary" of 55,000 acres, which means 25,000 more acres can be added. He said there are plans to add more land in Carvers Bay that is owned by the Nature Conservancy and add more land in Conway that is owned by the city and American Rivers, a nonprofit group.
Much of the land the refuge acquires comes from entities like the Nature Conservancy that buy land from private owners and donate it to the refuge.
"It's kind of a win-win," Sasser said.
Sasser is eyeing another property that could be used as a place to launch boats to transport visitors to Sandy Island. Sasser is working with Ray Funnye, founder of the nonprofit Village Group in Plantersville, on the project.
"There's trails over there, and the old school building is being restored by the National Park Service and Coastal Carolina University," Sasser said. "There's some other opportunities that aren't really being marketed yet."
An announcement on the land acquisition is expected later this month. It is not an expansion of the refuge, Sasser noted.
"We're basically doing an acre-for-acre trade," Sasser said. "We're taking out stuff that is no longer available or [no longer] has wildlife habitat."
Visitors center opens door to 23,000-acre refuge
The Waccamaw National Wildlife Refuge consists of 23,000 acres stretching north from the former ricefields west of the Pawleys Island area to Conway, including parts of Sandy Island and the Waccamaw River, Big Swamp and Bull Island.
The refuge is open to visitors. Although camping is prohibited, visitors can boat, canoe, kayak, fish, hike and picnic.
The refuge visitors center is located about 20 miles north of Georgetown off Highway 701 on a bluff overlooking the Pee Dee River in the Yauhannah section of Georgetown County. It has maps, artifacts, historical information and displays and is open Monday through Friday, 8 a.m. to 4 p.m., and Saturday, 10 a.m. to 4:30 p.m. Admission is free.
For more information go to fsw.gov/refuge/waccamaw or call 843-527-8069.