Warriors back on top with sixth girls tennis title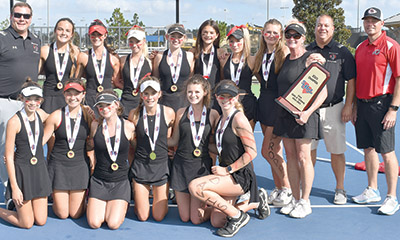 The Warriors with their medals and 3A championship trophy.
After winning five state titles between 2004 and 2010, the Waccamaw High School girls tennis program slipped into a drought.
On Saturday, they made it rain.
The Warriors beat Chapman 5-1 to win the Class 3A state title.
"We are ecstatic about our state 3A title," Warriors coach Mary Cannon said. "The Pawleys Island, Murrells Inlet and Georgetown communities have been so unbelievably supportive and helpful to us this season."
The Warriors said they weren't nervous before the match.
"We all looked at it as just another match," Gabriella Martin said. "For some of us it was our last chance to get a state title, so it was just a very exciting moment. So we felt happy to be here and happy to be playing tennis as a team."
"I was more excited than nervous because it's the first time I've ever been to state," Stephanie Davis said. "I was just excited."
"I knew we could do it in our hearts, so I wasn't nervous," Aynsley-Aimeé Flowers said. "You do get nervous for everybody, but I wasn't nervous for myself. I was ready."
It took less than 30 minutes for Waccamaw to get its first victory as Emory Heineck dispatched her Chapman opponent 6-0, 6-0, at No. 5 singles. She was quickly followed by Stephanie Davis and Elise Dozier, who won 6-1, 6-0 at No. 2 doubles.
"It feels amazing and it's especially amazing since it was with my best friend forever and she's a senior now," Davis said. "It was a great win to have."
Once Martin won 6-1, 6-0 at No. 4 singles, the Warriors held a commanding lead.
Aynsley-Aimeé Flowers' 6-2, 6-2 win at No. 3 singles clinched the title.
"I've been waiting for this moment for six years now, the ability to play at state," Martin said. "It's just really exciting that I got to do it in my last year with the best team ever and with all my best friends who I've been on the team with for six years."
Kaiden Greer won 6-0, 6-1 at No. 1 for Waccamaw's fifth win.
"It's just gratifying," Cannon said. "That camaraderie, that support for one another. They love each other."
Since the last state title, the Warriors lost seven times in the Lower State final.
"All the hard work went to the main goal of winning the state title, and it's so exciting," Flowers said. "I'm so excited for everyone because we have been playing for so long and we've been so close to it so many times and I'm just glad we finally go it.
"I just think about all those kids who have played for me that didn't get it," Cannon said. "They were so close; knocking at the door every year. This is for them."
It was the fifth straight trip to the state finals for Chapman and the first time the Panthers had won a match. On every other trip, they were swept by Bishop England or Oceanside Collegiate.
Cannon is losing Martin, Dozier, Aynsley-Aimeé Flowers and Addison Flowers to graduation.
"It's going to be a lot different next year without them," Davis said, but added that her younger teammates looked good this year. "I think next season we have a good chance of making it through the playoffs."
"They're going to have big shoes to fill and they know that," Cannon said. "We've already talked about it. A lot of them have to make the commitment to play all year and train all year."
This is the sixth state title for Waccamaw's girls program and ties them with the boys golf team for most in school history. The boys tennis program has five state titles.