Warriors ready to add winning to their résumé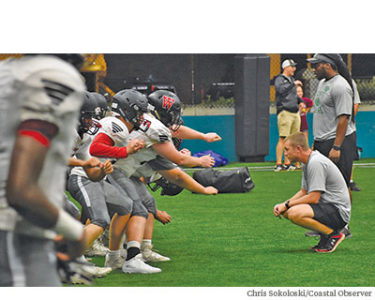 Coach Shane Fidler with the Warrior line before the CNB Kickoff Classic.
Waccamaw High School football coach Shane Fidler believes his team needs to get a win early this season to provide some momentum and confidence.
The Warriors didn't win a game until October last year, and that broke a 24-game losing streak. They then lost their final two games.
"If we can get off to a good start, start having success early and get the taste of winning in these kids' mouths, then I think those games that we lost last year – if we get in those situations again – we should be able to have a much better result at the end. We'll know what it's like to win."
Waccamaw players have been talking about how different the team is than at the start of last season.
"We're still growing and trying to get a winning season," said Kyle Pence, a senior lineman. "We definitely want it a little bit more. We're gaining confidence in what we're doing."
"It's evident that we have improved. The kids are more energetic now. … We have more enthusiasm for tackling right now," Fidler said. "I think we're going forward slowly in the right direction. Now we just need to start playing some games and see how much improvement we've done and how far we need to go."
Getting the start at quarterback this season will be Denson Crisler, a junior.
"I just want to lead my team to something better than we've had in awhile: the playoffs and hopefully playing in December for a state championship." Crisler said. "We're looking great, we're looking ready."
Waccamaw opens the season tomorrow night hosting Carvers Bay and looking for a better showing than the 81-14 loss to the Bears last year.
"We should be playing with a chip on our shoulder," Crisler said. "Our motto has been EDGE all winter. We just want to play with that EDGE against Carvers Bay."
The acronym stands for energy, discipline, grit, execution.
The Bears played for the Class AA state championship last year. The Warriors only trailed 21-14 with in the first quarter. Carvers Bay then scored 60 unanswered points.
"We need to remember what happened and use that as motivation," Fidler said. "For that first quarter, I bet we played them as tough or tougher than 75 percent of the teams on their schedule."
After Carvers Bay, Waccamaw plays Aynor and Andrews. Both were playoff teams last year.
"We know the first three games are a murderers row," Fidler said. "I set that up on purpose so that way when we do make the playoffs, we've seen physical football teams that are huge."
It's the second year that Waccamaw is in Region VII-AAA with Georgetown, Hanahan, Academic Magnet, Bishop England and Manning.
"This is not a cakewalk region by any means," Fidler said. "We've got to become prepared to play."
The Carvers Bay loss at the beginning of the 2018 season continued a losing streak that stretched back two years and would continue for five more games.
The losing streak ended on Oct. 19 when Waccamaw beat Academic Magnet 57-0 to give Fidler his first win at Waccamaw.
The Warriors ended the season losing 41-7 to Hanahan and 41-0 to Georgetown. Despite having won just one game, if Waccamaw had beaten the Bulldogs they would have had a mathematical chance to make the playoffs.
Tyree Funnye, a senior wide receiver and defensive back, said he's seen a lot of growth in the team in Fidler's three years at the helm.
"We're definitely the underdogs because of the last few years," Funnye said. "But this year we're a lot better team."
Mother Nature wreaked havoc on Waccamaw's schedule last year. Because of weather postponements, the Warriors had a game against North Charleston canceled and the game against Georgetown rescheduled. Fidler believes if the Warriors had beaten the Cougars in the fourth game it would have given his players confidence going forward and might have led to more wins.
"Learning how to win is the key," Fidler said. "We would have had that taste of winning and it would have made playing late in [other] games better for us."
It has been a difficult four months for the football program. Two players committed suicide in April.
Fidler hopes in the aftermath of those tragedies more kids will feel comfortable coming to a coach or teacher when they're having a problem.
"We can teach them how to find resources and be a sounding board for them," Fidler said.
But, he said, at the end of the day, support for kids "has to start at home."
The school's athletic booster club is hosting a tailgating party on Friday to kick off the football season. The community is invited to the student parking lot starting at 6 p.m. for food, music and prizes.