Warriors ready to defend Coastal Invitational title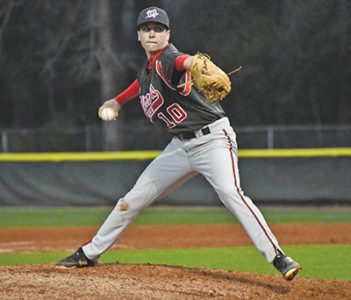 Caleb Colegrove on the mound during a recent scrimmage.
Play is under way at Warrior Field as Waccamaw High hosts the 13th annual Coastal Invitational Baseball Tournament. The Warriors are the defending champions.
"Every time I put the uniform on I think we've got a chance to win, so I think we have a good chance to win it." senior outfielder Austin Hansmeyer said.
"The field has more of a local flavor," coach Jeff Gregory said. "These guys that are up and down the coast have been to the tournament before and they enjoy it. They ask to come back. … I believe that some of your better pitching is going to be on this coast and that's why they're here."
Here is the schedule:
Thursday: Waccamaw – 2, Pelion – 0; Socastee – 4, St. James – 4; Conway – 1, Aynor – 2 ; Cheraw – 3, Wando – 2.
Friday: Conway vs. Pelion, 1 p.m.; Cheraw vs. Socastee, 3:15 p.m.; Waccamaw vs. Aynor, 5:30 p.m.; Wando vs. St. James, 7:45 p.m.
Saturday: Aynor vs. Pelion, 10 a.m.; Cheraw vs. St. James, 12:30 p.m.; Socastee vs. Wando, 3 p.m.; tournament ceremonies/home run derby, 5:30 p.m.; Waccamaw vs. Conway, 7 p.m.
Sunday: consolation games and championship game at 8:30 and 10:30 a.m. and 12:30 and 2:30 p.m. Matchups to be determined at conclusion of Saturday's games.
New season finds WHS in region with last year's playoff spoilers
It's been 10 months since a devastating loss in the district finals ended the Waccamaw High School baseball team's 2018 season.
This year's seniors are using that memory as motivation going into the 2019 season.
"We had the whole offseason to sit there and think about it," said Hansmeyer. "It just picked at us the whole year knowing we were that close and couldn't get the job done. So we really focused on the little things this offseason and preseason."
"I feel like it motivates us a lot, especially us seniors," said catcher Luke Montenery.
"Nobody expected that to happen, our season to end like that. So it's kind of left a bad taste in everyone's mouth We've all worked really hard to get back to that point and hopefully pull it out this year to try and accomplish what we didn't get a chance to do."
Waccamaw needed to beat Hanahan only once last April to advance to the Lower State tournament. Coming out of the loser's bracket, the Hawks needed two wins to advance. They got them, beating the Warriors 11-5 and 4-2.
"We're still stuck on that," said senior infielder and pitcher Sam Goude. "We want to push ourselves to get better. We're just trying to be the best Waccamaw team that's ever played here."
"To end the season like that is never a good thing but it definitely gave us the drive to get out and work hard in the offseason and come back for hopefully another great year," said senior infielder and pitcher Caleb Colegrove.
Waccamaw wrapped up its preseason schedule hosting Carolina Forest last Friday.
"I've been pleasantly happy with the way we've been working out," Gregory said.
"It's exactly what we thought we were getting. Right now we're defensively sound, offensively we're still making strides. Pitching we're right there too. … There's going to be a lot of close games this year but I feel like we'll be able to compete."
Realignment put Waccamaw in a region with Georgetown, Bishop England, Hanahan, Manning and Academic Magnet. The Bishops are ranked No. 1 in the state in Class 3A and the Hawks are ranked No. 5. The Warriors are unranked.
"It's going to be a difficult region, but at the same time it's something we've become accustomed to with the scheduling we do," Gregory said. "We try to play the hardest teams that we possibly can. Even if we weren't in this region I'd be trying to schedule that caliber of team." Nobody's expecting the Warriors, Goude said. "We're just trying to surprise people this year."
"I feel like we've been underestimated by pretty much everybody,' Montenery said. "We only lost three seniors from last year. They were really good but we still have a really, really good team and I think we're going to surprise a lot of people this year."
"Me and the boys around here think we've got a chance against anybody," Colegrove said."We're going to go out there and play hard, do our thing and come out with the [win] hopefully at the end of the night."Waccamaw's other home games this year are: St. James on March 13, Academic Magnet on March 15, Georgetown on March 19, Dillon on March 28, Bishop England on March 29, Manning on April 4, Hanahan on April 9, and Andrews on April 10.