Weaver enjoys fundraising lead on eve of primary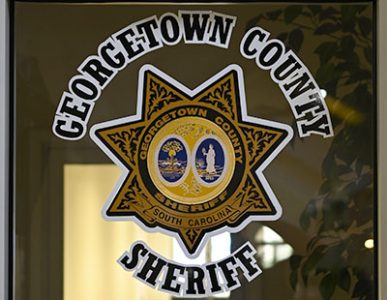 Deputies, corrections officers and dispatchers with more than five years' experience will be eligible for the raises.
Carter Weaver has spent more than twice as much as his opponent in his race to remain Georgetown County sheriff. And the former assistant sheriff has over $122,000 on hand as he approaches the Dec. 3 Republican Party primary with Darryel Carr, a former deputy.
The winner of the GOP primary will be the only candidate on the ballot for February's special election to fill the unexpired term of Lane Cribb, who died in September after 27 years as sheriff.
The county Board of Voter Registration and Elections sent a letter Wednesday to the county and state Democratic Party chairs saying that their candidate, Birt Adams, failed to file his affidavit of qualifications on time. State law requires candidates for sheriff to have law enforcement experience.
"We won't put his name on the February ballot," said Dean Smith, who chairs the county election board.
The county attorney and the attorney for the state Election Commission agreed with the decision, he said.
Weaver, who has been acting sheriff since Cribb's death, has spent $19,752 on the race, his first run for public office. Carr has spent $9,727, according to filings with the state Ethics Commission.
Carr has funded his campaign himself, according to the filings.
Weaver has raised $142,085 from 372 donors.
"Obviously, a lot of people in Georgetown County feel I'm the best candidate," Weaver said. "I'm pleased the followed up with a donation."
He got $1,000 donations from 74 donors, 20 percent of the total.
"Money is extremely important in a campaign," Weaver said, but he added "it means nothing if you cannot equate that to a vote."
Carr, who has run for sheriff twice as a Democrat and once as a petition candidate, said he is "going door-to-door doing grassroots campaigning."
He said the response has been good. Voters he as talked to "want change. They feel the sheriff's office needs change."
Carr resigned from the sheriff's office to run against Cribb. He has run a charter bus company since then.
"I'm not running against the long-time, beloved sheriff," Carr said. "I'm out working hard. I feel good about the election."
Carr and Weaver both said they are campaigning across the county, not just in the traditional GOP strongholds on the Waccamaw Neck. And they both said that they are looking for voters from both parties in next month's primary.
Carr said he may pick up some votes that would have gone to Adams had he been on the ballot in February.
Despite his lead in fundraising, Weaver isn't taking the race for granted and he plans to keep fundraising.
"I've never run for office before," he said. "There's no formula, there's no book, there's no road map to follow. You just hit the road."
Weaver has hired Tom Swatzel, a former County Council member and county GOP chairman, to run his campaign.
After the February special election, the filing will open in March for candidates in the November general election. Party primaries will be held in June.
"The outward support now is a referendum on what we've been doing for 18 years," Weaver said. "I'm very proud to have these supporters. I hope to carry that into the next election cycle."