Who has Sgt. Atkin's dog tag?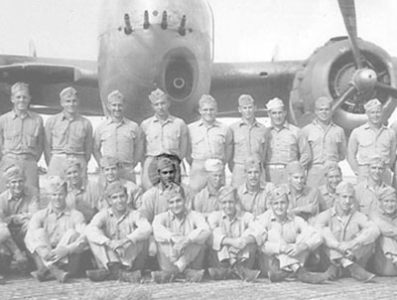 Sgt. Atkin, center, with pilots and other aircraft mechanics in a Marine Corps photo.
Bill Atkin joined the Marine Corps at 17, just shy of the first anniversary of the Japanese attack on Pearl Harbor. He served in the Pacific as a mechanic in a bomber squadron. He was a sergeant and not yet 21 when he returned home to Massachusetts in 1946. He went to college, became an engineer; he married and raised a family.
Atkin never visited South Carolina, as far as his family knows. But a man showed up at the home of Don Corinna in the Pawleys Island area this winter who said he had Atkin's dog tag. He wanted help in returning it to the owner.
"I was almost about to turn him away," Corinna said, thinking the man was selling something.
Corinna runs the Toys for Tots program for the local chapter of the Marine Corps League and is often visible around the holidays in his dress uniform. Other than that, he can't think why the man came to his doorstep. The man said he found the dog tag, but didn't know how to contact Atkin.
"When he came to the door, I was so amazed and interested in it, I never got the man's name and phone number," Corinna said.
The man, whom he described as well-dressed and in his late 50s, didn't have the tag, but he left Corinna with the information it contained: Atkin, William F; 508269C; T-12/42; A; USMC; P. Along with his name and service number, the tag gave the date of his tetanus vaccine, blood type, branch of service and religion.
Corinna is also a member of American Legion Post 197 at Pawleys Island. That's where he took the dog tag information. Alan Wright, another post member, did some research.
"I was able to find the military records of him without any problem," Wright said. They showed him going through training in Jacksonville, Fla., in 1943 and at Cherry Point, N.C., the following year, by which time he was a corporal in VMB-613.
The Marine bombing squardon flew the PBJ-1, the Navy version of the B-25 Mitchell bomber made famous by the Doolittle raid on Tokyo in 1942. Wright was familiar with the planes. His father-in-law was in a similar unit. "The Navy complained that they got what the Army threw away," he said.
The squadron left for the Pacific and arrived at Kwajalein atoll in the Marshall Island's in December 1944.
Wright also learned that Atkin had died in May 1994 at age 69.
The post wanted to return the dog tag, but faced two problems: it didn't know who had it and it didn't know how to reach Atkin's family.
"Dog tags are meaningful to anyone in the service," Wright said.
They are also meaningful to their children.
"It would mean the world to me if we could get that," Carl Atkin said. He and his sister, Carol Stark, were talking about their father's war service a couple of weeks ago. "We knew so little," he said.
Using Wright's information, an online search led a reporter to the siblings, who live in Murrells Inlet. Neither was aware that the dog tag was missing, when contacted this week.
"I feel like I had his dog tag at one time," Stark said. "I do remember seeing one dog tag on a little chain."
The tags were issued in pairs. One attached to a long chain stays with the Marine. The other, on a short chain, is taken if the Marine is killed, Corinna explained.
"I would never have thrown it away on purpose," Stark said. She added that she couldn't confirm it was gone, but if so she was at a loss to say how it left her possession. "I would love to get that back."
Bill Atkin didn't talk much about the war. "He was a hard man to read. My gut feeling was that he just moved on," Carl Atkin said.
His father worked as an engineer for GTE. One of his projects involved mirrors for the Hubble Space Telescope, Carl Atkin said.
Bill Atkin also worked on the installation of cable television at the Waldorf Astoria hotel. That took him from his home near Boston to New York for about six months. "He was proud of that project," Carl Atkin said.
"He had an affection for golf and he passed that on to his daughter," Stark said. That drew her to South Carolina when her son decided to attend Coastal Carolina University. That was 12 years ago. Carl Atkins followed two years later after selling his retail business in Massachusetts.
The siblings live in Prince Creek. Carl Atkin thought it was uncanny that they had been talking about their father's wartime service even as members of Post 197 were doing the same.
"It's unusual to lose a tag like that," Corinna said. "There's too much pride associated with it, and tradition."
Wright now hopes that the person with the dog tag will call. The number is 843-314-3096.