WHS grad leads Polish team to football league final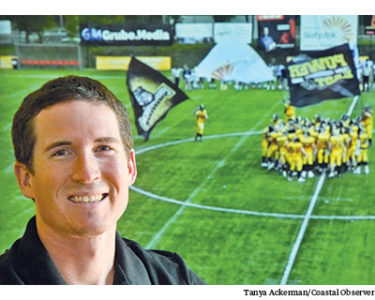 Alex Burdette, in his first year as head coach, led his team to the Top 20 in the European league.
At 26, Alex Burdette has already experienced what head coaches in every sport work for: his team played for its league championship.
The 2011 Waccamaw High School graduate led the Białystok Lowlanders to Polish Bowl XIV on June 29.
"Having the opportunity to be a part of the championship game was incredible, a moment I will never forget. Unfortunately the result was not what we had hoped for, but I could not be more proud of our guys," Burdette said. "I'm beyond grateful for this opportunity and it has served as a valuable learning experience. I hope to build from this experience and be a part of more high profile games such as this throughout my career. "
After their runner-up finish, the Lowlanders ended up ranked No. 20 in Europe, the highest ranking in team history.
Burdette was named the Lowlanders head coach in December after spending part of the previous two years as an assistant coach in Germany and France. He said being a head coach required him to be involved in more aspects of the team than assistant coaches and players are. There were also a lot more responsibilities.
"Every little thing now comes under your umbrella," he said. "It was an adjustment but it was something, with the help of everybody, I was able to transition into pretty well."
Lowlanders players, most of whom were Polish, ranged in age from late teens to mid-30s.
"You have guys that are in school. You've got guys with families and regular jobs," Burdette said. "It's truly a big melting pot."
The league restricts the number of American players on teams to two: one on offense and one on defense. Teams can also have one player from another European country. Białystok had a Frenchman who had played football in Canada.
"Poland is one of the most strict [leagues] around," Burdette said. "It's all domestic kids they're trying to develop and make it bigger in their own country. It was a neat thing to be a part of."
Burdette left for Poland in early January. The team couldn't start practicing until early March, but they could train. So Burdette had them train together using drills that he learned when he was a player and student assistant on the Clemson University football team. Burdette also spent a year on the West Virginia University football team before transferring to Clemson.
Burdette said the motto at Clemson is "attention to detail." He took that to heart in his first head coaching job.
"You have to be on the lookout all the time for the littlest things, especially with teams in Europe," he said. "They want to move up in the European field and don't really know how to do it. So you come in and make all these changes. Some guys are hesitant to buy in, but you just keep on them. Thankfully I had an organization and players and community that all wanted to be a part of it so they bought in. "Without all of them believing in what we were trying to do it would have never happened."
The Lowlanders started the season 1-2 after winning the Liga Futbolu Amerykańskiego (Polish American Football League) title in 2018.
"It was like doomsday was here," Burdette said. "People had kind of written us off."
After the slow start the Lowlanders won five straight regular season games and one playoff game before losing 28-14 to the Wrocław Panthers in the championship game.
"One of our points of emphasis is accountability, focusing on how we are all held accountable for our actions. I tell our guys before every game that at the end of the day they're going to have to look in the mirror and hold themselves accountable for the amount of effort they gave that day," Burdette said. "Win, lose, or draw, if you can look yourself in the mirror at the end of the day and say with certainty you gave 100 percent, that's a successful day. I can confidently say that our players, staff and organization gave their maximum effort [on championship game] day and that's something I'm very proud of."
Crowds for Lowlanders home games averaged about 500, topping out at 1,200 when Warsaw came to town.
"It's a very intimate setting. It's like going back to high school or a small college. People are right there on top of you," Burdette said, adding that they saw larger crowds on the road in some of the bigger cities.
Białystok is in the northeast corner of Poland and has a population of about 300,000. Burdette said it is a very rural area.
"The Polish people were very hospitable," Burdette said. "I love that place."
Burdette returned home July 3 and has no plans beyond hanging out at the beach and with friends. Białystok wants him to return next season, and several other European teams have contacted him about coaching jobs.
"It was such a long season and the whole time you're just thinking about football," Burdette said. "I just want to decompress for a couple of weeks and then I'll start fielding interviews."