WHS resource officer goes to the top of the class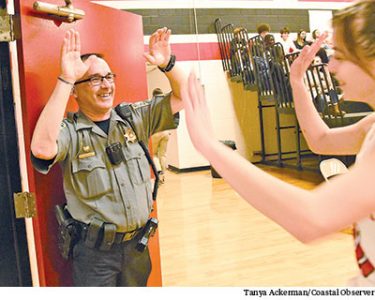 Sgt. A.J. Kohut celebrates with the girls varsity after their first win of the season.
Stay calm.
That was Deputy A.J. Kohut's first thought on the morning of Dec. 12, when a Waccamaw High School student confided in him that the suspect in a murder was sitting in a classroom at that moment.
"I don't need more of a problem than we already have," Kohut said. "And then it was 'I need to start getting resources here.' "
Kohut, who is the school's resource officer, called the Georgetown County Sheriff's Office to request that investigators come to the school. A few hours later two students were charged in a murder that had taken place Dec. 11, and a third was arrested on robbery and drug charges.
All three were removed from the campus and taken to the county jail.
"That thing went down as good as it could possibly go," Kohut said. "It could not have gone any better than that. It was not because of me. It was because we worked as a team. … It went smoothly and no one got hurt."
Kohut's actions that morning are part of the reason he was named the 2019 Deputy of the Year for the sheriff's office.
"It really blew my mind," Kohut said. "It really humbled me. I don't get humbled easily."
He was thrilled to share that moment with his ex-wife, Angela, and two daughters, Alex and Aniela.
Kohut, 51, has been in law enforcement for 25 years. The first 11 years were spent in Edison, N.J., where he was everything from patrol officer to community resource officer. He was even with the mounted patrol unit.
"I learned a lot," Kohut said.
Kohut was vacationing in Pawleys Island with a group of family members on Sept. 11, 2001. When he returned to New Jersey, he went to the site of the World Trade Center on his days off to help in the recovery and cleanup efforts. It is not an experience he will ever forget, and he has not been back to Ground Zero since. Maybe one day, he said.
Kohut moved to Georgetown County in 2006 to escape New Jersey's harsh winters.
"It was just an all-around good move for the family," Kohut said.
He worked for the Georgetown Police Department before joining the sheriff's office in 2011. He's been a patrolman, shift supervisor, investigator and worked in narcotics since moving here. He became a school resource officer three years ago because he wanted to try something different. He immediately knew he had made the right decision.
"Maybe it's the right fit at the end of a career for me," he said. "This is probably one of the better decisions I've made in my career. Not only was it good for me, but it was good for the kids and the community. It just jelled so quickly."
Before becoming a resource officer, Kohut returned to the police academy for courses on psychology, educational plans and students with special needs, and active shooter and gang training.
Kohut spends his days patrolling the hallways "being visible." He estimates that he takes between 7,000 and 9,000 steps every day. His priorities are the safety of the school and the handling of anything of a criminal nature on campus, including writing an incident report and, if necessary, filing the charges.
"I would love to go the entire school year without having to write a report or charge a student with something. Unfortunately it happens," Kohut said. "We try as best as we can to try to get involved in something before it becomes a problem, before it becomes a law enforcement issue. Nobody benefits from that."
He does not mean he lets kids get away with things.
"Let's find a resolution," he said. "That's not always possible, but let's start at that point and look in that direction. … It's understanding that these kids have a lot on their plate."
Kohut said 2019 was the most difficult year of his law enforcement career. Two Waccamaw High students committed suicide. He knew both boys well.
"It sounds clichéd, but I've got 870 more children. When they hurt, I hurt," Kohut said. "That's what made last year so difficult. You want to be stoic and strong for them. You want to be, but it's hard."
In the aftermath of the tragedies, Kohut said school officials have learned a lot about resources available in dealing with mental health issues.
"If you could put a silver lining on it, we've learned a lot and we've grown a lot as a community and a school," Kohut said.
Kohut said one of his main goals as a resource officer is to build relationships with students so they feel comfortable enough with him to tell him things, like about a murder suspect.
"That's hard for kids to do. A policeman in a uniform is very intimidating for them," Kohut said. "What I wanted to do my first year, was to try and take that stigma part of it out. Try to build relationships with them. Sit down at lunch with them, joke around with them in the halls, go into their classes with them, go to sporting events."
The best and worst thing about being a resource officer, Kohut said, is graduation day. He's proud to see the students he's watched grow up walk across that stage, but sad that he won't see them every day.
"It's bittersweet because you've spent all this time with these kids," he said. "It's no different than when your own kid walks across the stage."
When the Class of 2021 graduates, it will be an especially emotional time for Kohut. This will be the first group of students that he's known since they arrived as freshmen.
"You got to see them grow," Kohut said. "You remember when they came in here with braces on. … And all of the sudden they're not there anymore."
Although he goes back to being a patrol officer during the summer when schools are closed, Kohut has no plans to give up being a resource officer.
"I really do love this," he said.