WHS softball coach retires – for the third time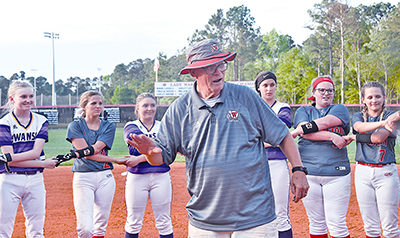 Coach James Graves with players from both teams before a district playoff game.
Waccamaw High softball coach James Graves is retiring, again.
"It's time," Graves said. "I think we had a good year. You always wanted more but the kids played hard."
He broke the news to his coaches and players last week.
Waccamaw finished 13-12-1 this season, losing to Aynor in the district championship.
"It's never a good time, but it was for me," Graves said. "It's hard. The kids that I coach are like family."
Graves took over before the 2017 season when Scott Streiffert stepped down.
"It's been a good time," he said.
Graves has been a education for 49 years and a head softball coach for 27 of those. He taught at schools in Texas and North Carolina before settling in South Carolina.
"I've had fun everywhere I've been," he said. "Softball has been good to me."
Graves coached 751 games, compiling a 551-200 record, and never missed a game.
"The Lord has blessed me," Graves said.
He played for his first state championship in 1980 against Winyah High School in Georgetown and lost. After losing two more state titles, he won three straight in 2002, 2003 and 2004 at Hillcrest High School. During that time the Rams were 107-2, and won 96 games in a row.
"It was a fun time," Graves said. "I had some really good kids and athletes."
Graves has retired in the past, including from Hillcrest and North Myrtle Beach High, but always came back.
"This is my final retirement, I'm looking forward to the time off," he said, adding that what he'll miss the most is being around the game. "It's been my life for so many years."
Waccamaw's season ended with a 9-3 loss to Aynor on May 1 in the district finals.
The Warriors scored three runs in the top of the first inning,
Peyton Brown led off the game with a walk, advanced to third on a double by Keirstyn Carroll, and scored on a sacrifice by Summers Ward. After a walk by Casey Pelasara, Carroll scored when Kaylee Jordan reached on a fielder's choice. Pinch runner Remi Luckiewicz then scored on a sacrifice by Emma Parler.
Aynor then scored nine runs in the next three innings. Five of the the Blue Jackets' runs were unearned.
"We knew they were going to scores runs. There was no surprise about that," Graves said. "They hit the ball well and ran the bases well."
Brown went 1-for-2 with a walk and a run to lead the Warriors.
Carroll went 1-for-4 with a double; Kyndra Patterson went 1-for-1; Parler walked and had one RBI; Pelasara walked twice; Marlee Lord walked once; Luckiewicz stole one base and scored one run; and Ward and Jordan each had one RBI.
Pelasara struck out two and allowed eight hits, nine runs (five earned) and three walks and took the loss.
Five of Waccamaw's losses came to teams that made deep runs in the playoffs.
"We had some pretty stiff competition," Graves said.
Graves said he saw growth this season in the girls' expectations, how they played together as a team, and their understanding of each other's roles.
"That was rewarding," he said. "They played with some confidence."