Wired world challenges student creativity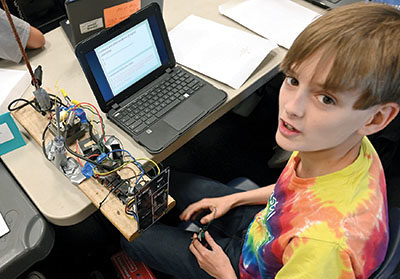 Parker Horton built a device to convert magnetic energy into electrical energy. It generated 16 watts.
Hundreds of students crammed into the cafeteria and the media center at Waccamaw Intermediate School last week to show off their creativity, innovation, critical thinking, decision making and problem solving.
Students from every grade and every Georgetown County school were on hand to compete in the district's annual tech fair.
Superintendent Randy Dozier was impressed with the quality of the projects and how much time and effort the students put in.
"Technology now drives everything we do," Dozier said. "It's really grown and it provides a lot of opportunities for our kids."
Parker Horton used a temperature regulator from a water heater, a transformer from a microwave, part of a sway bar from a Toyota, copper wire, a two-stroke generator, a resistor generator and electric motor and a high-voltage stator to convert magnetic energy into electrical energy. He also used some duct tape. The project earned the Coastal Montessori Charter School student the top prize for innovation in grades three through five.
"It's very cheap," Parker said. "I could build this on a larger scale and put out 60 watts."
But the 16 watts generated from the prototype were enough for the judges. "Oh, my God, he's generating electricity out of thin air," said Doug Jenkins, the district's human resources director. "He's going places."
Parker is likely to be back next year. "I'm working on a salt water engine," he said.
Emilee Fidler brought nine groups from Waccamaw High School "They've done some really, really creative stuff this year," she said.
Two of Fidler's students – John Collins and Zach Fretz –used a 3-D printer to create the head of a lacrosse stick and won honorable mention for innovation in grades nine through 12. It was an easy choice since both of them are lacrosse players.
"The goal of this was to show that you can use 3-D printers to design and print things to use in the real world," Collins said. "If you have something broken that you can't find a piece for or you can't buy, you can print it yourself."
Fretz said the head they made was a model because the school's printer wasn't big enough to print one at regulation size.
The boys use computer-aided design software every day in Fidler's class.
"We knew what to do and we were ready to make something this complicated on our own. It was very easy," Collins said. "The 3-D printer is used a lot in the classroom. We always like to see what we can make and try to test our capabilities and see how far we can push the 3-D printer to make stuff that we want to use."
"The possibilities are endless," Fidler said.
Beth Goude, oversees Waccamaw Intermediate's robotics team, which is comprised of fifth- and sixth-graders. She brought her fourth-graders to the tech fair with a basic robotics program.
"This is a way to introduce fourth-graders to [robotics] to see if they're interested in being on the competition team," Goude said.
Two of Goude's students – Cade Dawson and Connelly Vaughn – won honorable mention for critical thinking in grades three through five. Connelly called robotics "a ton of fun."
"Completing the missions makes me really happy" Connelly said. "You feel really good."
Goude hoped the teachers from the county's other middle schools attending the tech fair would take an an interest in robotics.
"I think if more teachers knew what was involved in this, and the critical thinking and problem solving, they would probably incorporate it into their curricula as well," Goude said. "Especially gifted and talented. We're challenged to find something that challenges them."
D'Myia Braxton and Luke Joyce are the editors of the Dolphin News, the Friday morning announcements at Waccamaw Elementary. They won honorable mention for communication and collaboration in grades three through five. The third-graders do all the work on their MacBooks.
"We're telling how the Dolphin News is really nice and how it's all put together," Luke said.
Dolphin News "is very important so we can catch up with the students and the teachers and the school," D'Myia said.
Iliana Intrieri and two of her Coastal Montessori classmates used Stop Motion Animator, a free app on their Chromebooks, to create a video about bullying.
"One of the most popular mean girls decides that she doesn't want to be mean anymore," Iliana said.
It took the girls about five days to complete the video. They had to keep moving the pieces and taking pictures, which the app then pieced together into a video.
Addie Alot, an eighth-grader at Waccamaw Middle, created a "Family Feud" game using PowerPoint. She said she's used the program in the past for other school projects.
She got the idea during Christmas break when she was in Connecticut visiting her family and they played the game. On her laptop she had the control panel and could see the answers and control the game, which was taking place on a separate monitor.
"If they give an answer and ring the bell I can key in the points and give them to whatever team," Addie said.
Students in Jennifer Allard's second-grade class at Waccamaw Elementary used PowerPoint to create a "Jeopardy!" game comprised of science questions the whole class could play, and used a hyperlink to connect it with their tech fair presentation.
"It's amazing how wonderful they do," Allard said. "There's a little bit of pressure for them, but it's just a great experience."
Donna Moore, the media specialist at Waccamaw Middle, said the tech fair highlighted the different things students are doing with their computers.
"All of the projects are an outgrowth of what we do in the classroom, and that's important," Moore said. "We forget that this isn't something we put together so we could be here today. This is what we do all the time. This isn't out of the ordinary. This is out norm."
"It's amazing what they can do on their own and how much more they know than me," said Kristin Moody, a first-grade teacher at Kensington Elementary. "With our age of technology and everything we have in the real world that they have to deal with, they have to adjust to it."
Moody joked that for one of the projects the students had to explain to her how the program worked.
This was the ninth year for the tech fair, which began in 2011 with 85 entries. This year there were more than 325.
"Technology is so everyday to them finding something new is a challenge," said Sarah Wilson, an upper-elementary teacher at Coastal Montessori. She told students "I want you to do something you've never done before."
Judges for the tech fair included district personnel like Federick Cohens, executive director of curriculum and instruction, as well as members of the community like Midway Fire and Rescue Chief Doug Eggiman.
Here are the winners from the Waccamaw schools:
Creativity | WES K-2: second, Irelyn Register and Teagan Russell; honorable mention, Isabella Corcoran and Evy Rodriguez. WES 3-5: first, Avery Caroline Fleming and Raelyn Beckler, second, Carson Edwards and Kendall Brady. CMCS 6-8: first, Luke Burrow. WHS: honorable mention, Ryan Burger and Jayden Carnahan.
Communication and collaboration | WES 3-5: honorable mention, D'Myia Braxton and Luke Joyce. WMS: second, Luke Kibler and Ashlyn Mattox; honorable mention, William Goldstein and Holden Gulley. WHS: honorable mention, Kyndra Patterson and Emma Parler.
Critical thinking, decision making and problem solving | WES K-2: first, Lucas Garcia and Nicholas Papadea, second, Graham Frechette and Lily Retley, third, Stella Short and Hannah Richardson. WES 3-5: first, Banks Hardin and Noah Homan; honorable mention, Rostan Pate and Isabelle Morrissey. WIS 3-5: second, Cade Dawson and Connelly Vaughn. WMS: honorable mention, Chloe Facchinetti and Molly Stover. WHS: first, Jack Congdon.
Innovation | WES K-2: first, Ryleigh Thompson and Tessa Dieter. CMCS 3-5: first, Parker Horton. WES 3-5: honorable mention, Taeleigh Collins and Lillian Ongay. WHS: honorable mention, John Collins and Zach Fretz.
Educator | WES K-2: second, Caroline Danysh.