With 55 signed up, district will reopen search for magnet students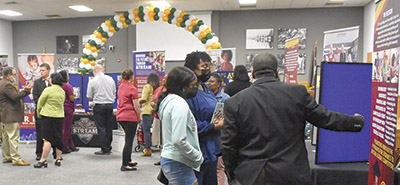 Parents and students at a fair for the rural magnet schools.
The Georgetown County School District is looking for more students to join the 55 already accepted into the new Magnet Schools Assistance Program.
The district will open another application period at the end of June.
"I know this is really going to increase for our second window," Constance May, project director, told the school board this week. "We have some out-of-district students who are currently enrolled in some of the schools [that] did not go through the application process that they'll need to go through in the second window."
The magnet program will begin at the five Carvers Bay area schools when the new school year opens in August.
Each school will have its own theme. For the elementary schools, its creative and performing arts at Browns Ferry, digital immersion at Plantersville and STREAM (science, technology, reading, engineering, arts, math) at Pleasant Hill.
Carvers Bay Middle will have STEAM (science, technology, engineering, arts, math). Carvers Bay High will have early college and career.
Of the 55 new magnet students 47 already attend school in the district, including 24 who were enrolled at one of the five magnet schools.
Parents of children who attend one of the five schools but don't live in the attendance zone had to apply to be part of the program.
Students enrolled in the program from every school in the district except Waccamaw Elementary, Waccamaw Intermediate and Andrews High. They represent every grade level except 12. Twenty-nine of the students are female.
Fourteen new students are headed to Brown's Ferry, 13 to Carvers Bay Middle, 11 to Carvers Bay High, nine to Pleasant Hill and eight to Plantersville.
In additon to those who applied, all students already enrolled in the five schools because they live in that attendance area will have access to the magnet classes.
"We are whole school magnets," May said. "So all students who attend that school receive that instruction."
The district is funding the five-year magnet schools program with a $14.9 million grant from the U.S. Department of Education.
Three of the goals of the program are: to reduce "minority isolation" and help attract a more diverse and balanced student population; reduce the "opportunity gap" by bringing unique programs and opportunities that otherwise might not exist at the schools; and focus on academic achievement.
The second application window will start at 8 a.m. on June 26 and end at noon on June 29. Parents can fill out an application on the district's website, gcsd.k12.sc.us.
There are no academic or GPA requirements or tests to pass to be accepted.
The district will notify parents between July 10 and 13 whether their child has been accepted.